June 6th, 2010 by matt
London has a pretty good public transport system. What it lacks in modernity, it makes up for in thoroughness. Observe this system map (for a larger image, check this out):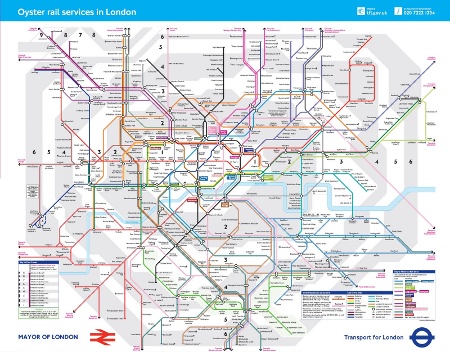 It's a bit of a spider-web of lines (some of them on this map are commuter rail links, but they run frequently enough to fit as rapid transit) and, being very very old, a bit creaky. However, in anticipation of their hosting the Olympics in 2012, they've needed to make some improvements. Since the big events will all being taking place in East London, a section of the city that has been horribly neglected in terms of fast rail links, they've embarked on an effort to modernize the Silverlink (former North London Line) and the East London Line into something called the London Overground. It's mostly rail lines that are cut but not covered or elevated lines, so it's not really the Underground and the operation of it seems a bit of a mess, so it doesn't fall into the London Underground piece of it.
Well, a major piece of it, the merging of the East London Line into the London Overground made some big moves in the last couple of weeks when it reopened for service, going all the way down to West Croydon  and up to Dalston (where it will eventually link to the rest of the Overground network via Canonbury — our home station!). I had my first chance to take it today. Seems like they've done a nice job. The new trains are lovely and it seems to run about every 7 minutes, not great for London transport standards, but a damn sight better than the current London Overground service of twice an hour on Sundays. Here would be a northbound train coming into Hoxton Station with the City in the background. It was good fun! And yes, I'm a rail geek. 🙂