Over the past two years, April in London has been a pretty unpleasant month full of rain and/or snow.  This year seemed doomed to be a repeat of the same when April started out with an Easter weekend full of rain.  However, the sun started to peek out on Easter Monday and has been shinning ever since.  Seems the volcanic ash that has been wrecking havoc on travel plans all over Europe, made way for some nice sunny weather in England.  I thought I would do a quick summary to fill anyone still checking in on the blog about what we have been up to as spring starts to shine on London.
As already mentioned, Easter weekend was a wet one but we still managed to have a great trip to Bath with Ben and Gerry and enjoy a fun fair in Victoria park with Anne and Leanne.  Bath was a great weekend trip and we managed to pull off a last minute room to allow us to spend the night there.
We visited the Roman Baths which have been amazingly restored.

We scaled the tower of the Bath Abbey and even got to look behind the clock face and through the ceiling peepholes.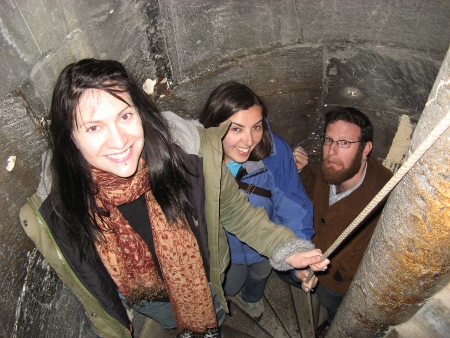 And somehow we managed to find the two hours of sunshine during our visit during which we went on a historic walking tour of the town.  I highly recommend the tours which give a great overview of the architecture and history of Bath.  We can't complain too much about the rain though because without it you would never get to see rainbows.
Bath has some great pubs which we enjoyed exploring during the rainy times and there was a comedy fest on so we got to check out an entertaining comedy group while we were there.
We were back in London for Easter Sunday and Monday during which we enjoyed some excellent Cadbury chocolate and Victoria Park's fun fair.  Here is Matt on the tea-cups and Carolyn on the bumper cars.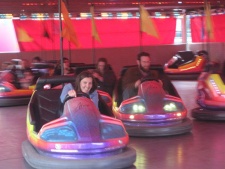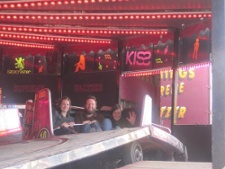 The next weekend in April was Matt's 33rd birthday so he planned a full weekend of celebrations including sushi night with Dina and Adrian, attending Dulwich Hamlet Football Club match in South London with D+A and Leanne and Nick and enjoying a pub lunch with lots of friends in Holloway.  Here are Adrian and Matt celebrating the upcoming year.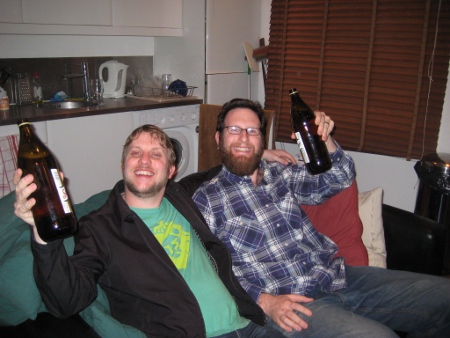 In April, we finally found an American style breakfast place in London – the Breakfast Club in Islington. (There are branches in Soho and Hoxton too.)Â  We were very excited to dig into this breakfast and plan to check out more London Breakfast venues with the help of this blog – The London Review of Breakfasts.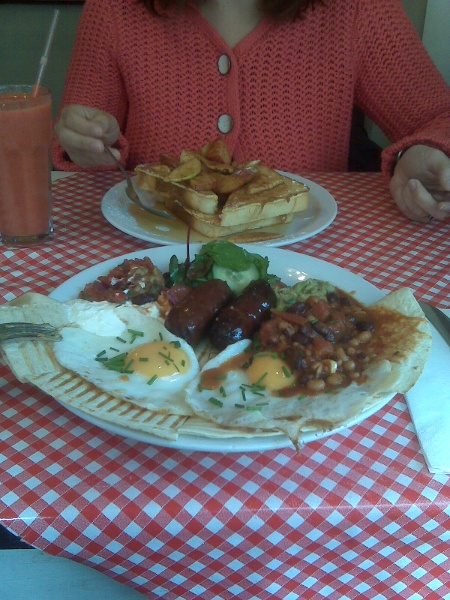 This weekend was the London Marathon and Matt and I watched the leaders and thousands of other runners at mile 23 near the Monument.  There was great weather for the race which was inspiring as always.  A big congratulations to all the finishers.  After watching the racers for a few hours, we wandered over the Battersea Park to enjoy a picnic amongst the flowering trees.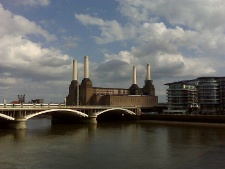 In spite of the sun, the volcanic ash has had some negative impact on our month — my parents had a great trip to Italy planned for the last week in April. However, their flight was on Tuesday, just 12 hours before flights to Europe resumed and they've had to reschedule. We had plans to meet them in Cinque Terre and we'll be sad not to see them there.