May 15th, 2011 by matt
So one of the things I miss about life in England is the beers. English ales are something that is unique to that country. Like Italian coffee, you can find some of it (Fullers and Greene King can be found in most large liquor stores here), but it's not the same thing. Unlike a nice Italian espresso, which I suspect is partly psychological, this uniqueness is more due to the fact that A) English beer is not pasteurized so won't survive the trip across the pond B) is naturally carbonated, something that isn't that popular outside of England.
I say this not to whine. In fact, I've been very happy to come back to the US to find that the microbrewery, previously something of a small aspect of beer-life in the US, has come into it's own in the Midwest. There are at least 7 breweries in the Chicago-area alone, and countless others within a few hours now. And they've managed to establish a presence in bars throughout Chicago. I remember, in my younger days, if I wanted a beer that wasn't one of the Big Three, I was usually out of luck, or had Guinness as my only option. Now, there's a variety of beers in most bars and a great place to buy it for consumption at home.
One of these great local breweries is Three Floyds. Their best known beers tend to be on the hoppy side (ok by me) and an interesting wheat beer called Gumballhead. They market themselves as a microbrewery with the soul of a metalhead. One of the ways you know they are doing well is the popularity of their annual beer festival called Dark Lord Day. It works like this. Every year, they make a batch of an Imperial Stout called Dark Lord. They only make about 30,000 bottles of it (for a comparison, apparently they sell 9 billion UK pints of Bud Light every year). And they only sell it on the last Saturday of April. On the beer geek sites, previous "vintages" of it are usually in the top 5 beers in terms of quality.
Since we've left the land of beer festivals, and because it sounded like something we should check out, we tried to buy tickets. However, in previous years, the tickets sell out very fast or they crash the ticket website due to the volume. This year, they were limiting access to the festival only to people who had tickets to buy the beer and had set a hard limit based on how much Dark Lord they expected to brew. They also happened to put the tickets on sale while we were skiing, so we didn't expect to get tickets. My mom was kind enough to try to get some for us. On March 19, at 1pm exactly, the tickets went on sale and my mom got the link to try to buy tickets. 5 minutes later, she got to the ticket buying point and, no tickets! They'd sold out in 4 minutes. Ouch! We figured no Dark Lord Day for us this year until we got a text from a very very nice friend of ours. He and his girlfriend had manged to get through and get 2 sets of tickets and offered the second set to us!
So, all this long winded writing leads us to the actual festival. We were a little nervous because we were afraid it might be a little too large for this small brewery to manage and become more of a fiasco than an actual good time. We were very very wrong. If you want to know what 6000 beer snobs (all willing to put down good money for an expensive beer) is like, Dark Lord Day is the place to be. Everyone was drinking interesting beers, the weather held out and, while very crowded, it was all very relaxed and orderly. Plus, metal music was blasting outside and live metal bands were playing inside. Kind of my nirvana 🙂 . Let's go to the photographic evidence: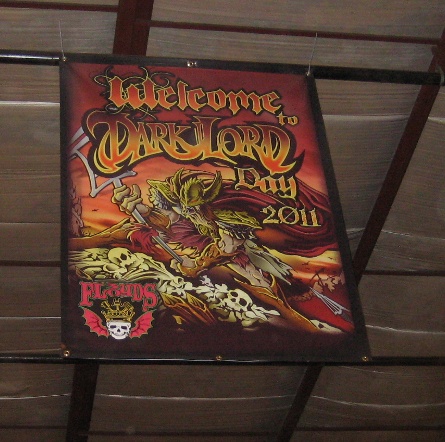 Welcome to Dark Lord Day! Note the Dungeon's and Dragons motif.
This is inside the brewery. Lots of random beers to sample, a stage to the right and lots of happy people.
Here's one scene of the exterior. The brewery's property isn't that big, so people spilled out onto the adjacent properties (just commercial buildings in suburban Indiana). We spent most of our time outside. We found a nice spot, and just settled in.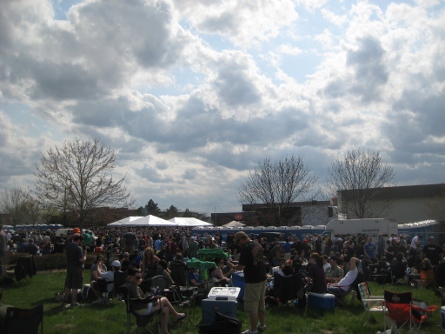 It was a glorious day to be outside. I got a nasty sunburn (I have GOT to remember to wear sunblock) but people just set up seats on the grass near the brewery, drank beer, ate good bbq and enjoyed the day.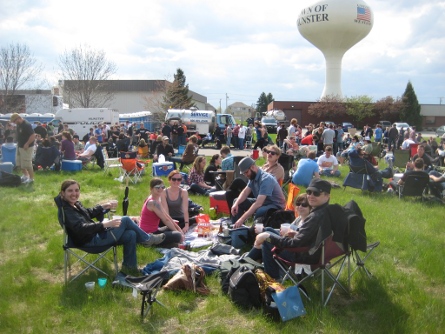 These were some of the people we hung out with. The four folks in the back were at DLD the previous year and had saved the 2009 Dark Lord to let it "age" and sample it a year later. They said it was still quite good.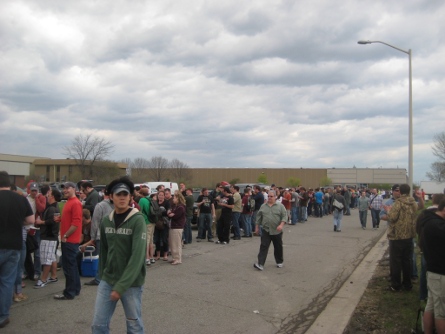 So the main point of this day was to buy some Dark Lord Imperial Stout. It was also the main mission of 5999 other people. Now, unless Three Floyds were some organizing wizards, then there is no way they were going to avoid a bit of chaos and lines. This would be the line to buy 4 bottles of beer. There were three buying windows and you had a ticket for one of them. We had tickets for the 1pm and 5pm window and we learned after the first time to Relax because, at the beginning of the time periods, the line would back up for a mile. But once they started distributing, it got a whole lot faster. So if you were happy to wait an hour, you could just hop the back of a shrinking line. It was really not so bad.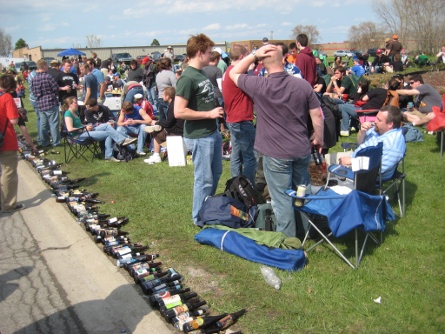 Besides the beer of honor for the day, everyone brought their own beers. This being a beer geek thing, when done, people would line the empties along this spot so people could check out a beer they might not have heard of. That and it was kind of cool to have a long line of beer snaking along the side of the road.
Any way, it was a really good day. We met some interesting people, drank some tasty beers we might never have had before and just enjoyed a large crowd of people (not something I say very often). I hope Three Floyds can keep the tradition going and hope I can be lucky enough to get a ticket next year. Oh yeah, I almost forgot. In case you were wondering, here is the beer that gives Dark Lord Day its name: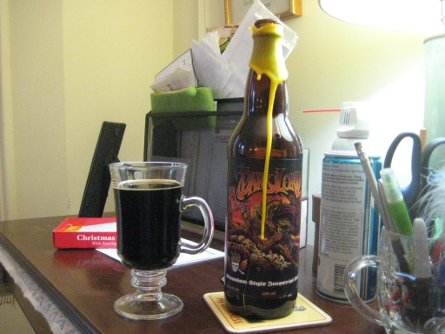 It's 13% alcohol and as dark as motor oil. The smell has a whiff of chocolate and coffee (they added Intelligentsia Coffee to it this year). The taste was amazingly complex, the coffee does not overwhelm (always a possibility with a beer that has coffee in it) and plays off the high alcohol nicely. It's is definitely a sipping beer, something for after a very nice meal. Definitely worth the trip!
And, in case anyone is curious, homebrew batch number II is finished. I'm having my first taste now and it's an improvement from the first batch. I borrowed a recipe from the homebrewers bible (The Joy of Homebrew) and made an American Real Ale. It's not a Real Ale because I added priming sugar, but it's still very tasty. The hops are Argentinian cascade and got along very well with the Amber Extract and English Yeast I used (no grains yet, that's coming).