September 30th, 2010 by matt
Well, it's time for a new installment. I'll wager this one is a bit tougher. 🙂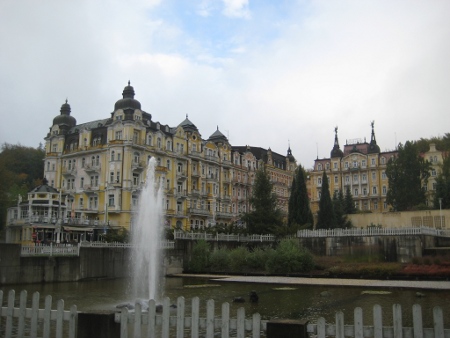 This is one of those old spa towns. The town feels a bit like the movie Cocoon in that it's full of old people (mostly Germans) stocking up on nasty-ass sulfur tasting water. These are some of the grand hotels in the center of town.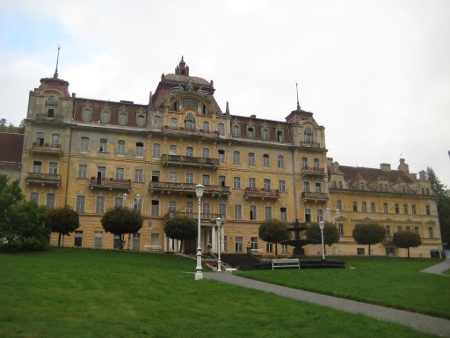 It's recently history hasn't all been roses. After the Iron Curtain came down, their foreign visitors couldn't come and visit. This building looks absolutely magnificent and, while a large part of the town has been restored to it's former glory, there's a lot in need to major work like this building.
So, still unsure? I doubt this will help: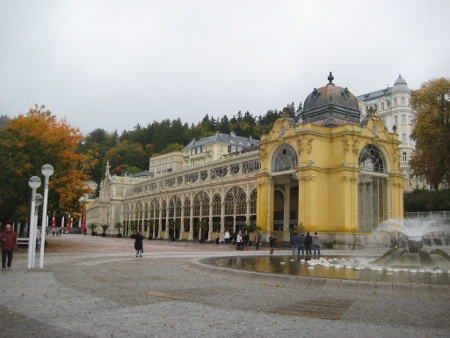 This grand colonnade sits overlooking a lovely park in the center of town. Inside is some great iron work and paintings on the ceiling. The fountain to the right does a bit of choreography to classical music every two hours.
Give up? It's Marianske Lazne, formerly known as Marienbad. It's about 30 miles from the German border in the Czech Republic and is one of two major spa towns in West Bohemia. Behind the town are some very pleasant walking trails as well. We spent a lovely day there, wandering around the grand buildings and strolling through the woods.