January 30th, 2010 by matt
Ok, January's not over yet, so I can still talk about Christmas. I've not been in the US for the past three Christmas', so I try to find something interesting to do each time. The first time, I 'chose' to have a horrible flu and spend the holiday in a feverish bundle on Dina and Adrian's couch. Not something I would recommend. 🙂 The following year, Carolyn had made the move over and we decided to rent a place for a long weekend in Paris and do the whole market-shopping, homemade Christmas meal in a foreign country. It was such fun, we thought we'd try it again. However, in order to make sure it wasn't the same-old-same-old, we added a couple of changes. We went to Madrid this time and Carolyn's parents made the trip across the Atlantic.
Before I start showing pictures, let me say that one of the reasons we love doing this is we basically drop into town and try to figure out how to shop for some sort of epic kind of meal, without ever having been in that neighbourhood before. The internet truly helps with this, but so much of it is hit-or-miss. For example, we learned that grocery stores in Madrid are horrible. They literally sell the worst of the food you can think of. The bread is like wonderbread, they didn't have butter (I'm not making this up).
So how does one eat in Spain? The markets. In Paris and London, you tend to go to the markets if you want produce, meat, dairy and bread. This can also be picked up at the grocery stores, but it is possible to do much of the shopping at a market if you choose so. You have options but the basics you might go to a grocery store. In Spain, at least in Fuencarral (where we were staying), they had the Barcelo Market. It'd had recently been moved into a modern space which consisted of 3 or 4 kind of pods with stalls in each. Thanks to this market, we managed to pick up just about everything we needed. Which was good because we arrived on Christmas Eve and we had about 1 hour to find everything before the city shut for festivities.
Anyway, after writing this, I realize I'm making generalities about a city that I don't know that well. So allow me to call this an observation about a slice of Madrid. I did not go into any of the Corte Ingles (a large department store) that dot the city and Carolyn says that they do groceries as well.
So, after dropping into Madrid and performing a surgical strike on the market, it was time to settle in for the holiday. Jim and Linda were scheduled to arrive in the late morning on Christmas Day. We decided to have a variation on the Spanish Tortilla as our Christmas Eve meal.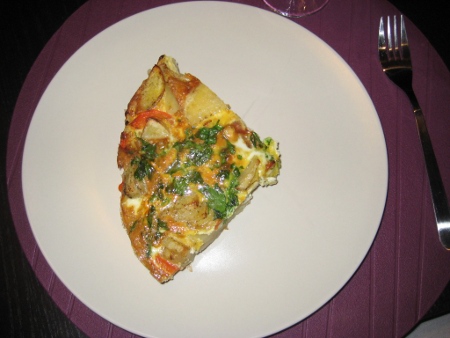 After dinner, we wandered around Madrid. We learned the hard way last year not to expect a whole lot of life or open restaurants at any point over Christmas (we had Chinese food last year for Christmas Eve dinner because Paris was dead). As we walked the almost deserted streets of Madrid, we would run into other tourists asking if the Metro was running of if we knew of open places for food. It was all quite eerie — Madrid is a bustling city, but on Christmas eve, it was absolutely dead. Observe the Plaza Mayor at about 10:30pm: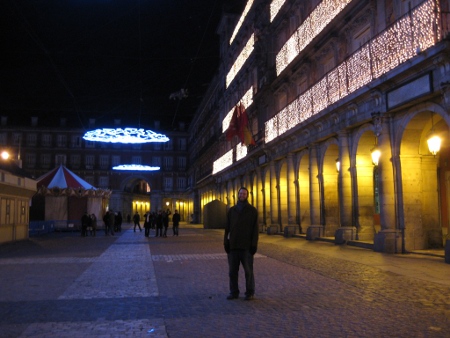 Beautiful lights and only like 10 other people around. Loved it!
After a wander around Madrid, we tucked in for the night so we could prepare to cook a feast to welcome Linda and Jim to Spain. The menu consisted of homemade ravioli (with a ricotta and spinach filling), roast rack of lamb, some vegetables and homemade strawberry shortcake. Here's the prep for it: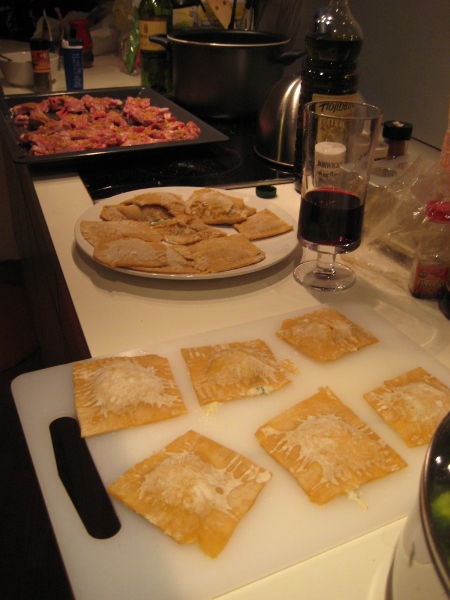 Of course, there was wine too :). Now cooking in a place you'd never seen before until the night before can always be tricky (this place had no measuring cups which is never happy when making a cake), but it turned out nicely:
(The sauce was store-bought and wasn't the best. But everything else was tasty goodness). Overall, it was a lovely time. Good food, good company, the apartment was beautiful. I'll leave this post with a the happy family eating and our Christmas "Tree" surrounded with presents: