February 21st, 2011 by carolyn
In preparation for returning to the world of proper winters this year, I had high hopes of reconnecting with my love of winter sports.  As an east coaster who spent many many winter weekends  on the downhill ski slopes, I never quite found winter in the mid-west to be as action packed.  And believe me I gave it a far shot.  In my first few years living in Chicago I went to Alpine Valley and Devil's Head ski areas in Wisconsin, got involved with an adaptive ski program, took some friends on their first downhill ski trips and even tried snow-boarding for the first time.
This time around I had a different thought.  Since down-hill skiing in the mid-west was probably never going to do it for me, maybe I should look into other options for winter sports.  My mom had handed down her old cross country skis to me and with all the snow we had this year I was hopeful to get to put them to good use.  I have already talked about my adventure with Anne around the neighborhood during the Blizzard of 2011 but that just got me interested in doing more.
The following weekend, my old roommate organized a group of us to go skiing in one of the Cook Country Forest Preserves.  Apparently you can ski in any part of the forest preserves from 8 am to sunset.  The area we went to at Camp Sagawau near Lemont, has trails and rentals and is very well maintained.  We had a great time but the trails were definitely crowded post-blizzard and my novice legs were worn out after a couple loops on the trails.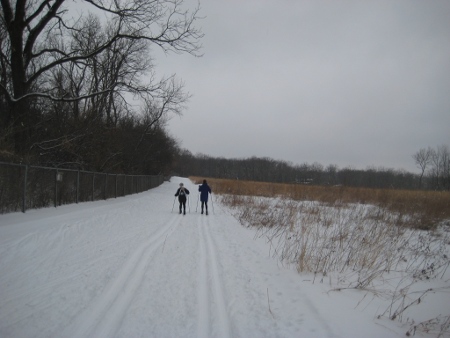 The following weekend another group organized a trip up to Kettle Moraine State Forest in Wisconsin.  They have a great network of nordic trails with loops up to 9 miles.  We headed to the Southern Unit of the park right near a great store and rental place, Backyard Bikes, which was a great pit stop.  We had beautiful weather (maybe a bit on the hot side actually) and enjoyed a few hours on the trails.  There were some intense hills, I mean like equivalent to downhill bunny trails, which can be rough on cross-country skis.  Unfortunately, I forgot my camera but there were some great views and with all the miles of trails you could really feel like you got away from it all and into the wilderness.
There are loads more options for skiing along the lakefront and in other spots in the Forest Preserves but with the warm-up and rain we have had, all the snow is gone.  I have definitely enjoyed my foray into alternate winter sports activities so far.  Other options remain such as snow-shoeing and ice-skating.  There is a city rink in Warren Park which is free if you have your own skates.  Any other suggestions of Chicago winter sports to try out?