Well, my two mile commuting walk wasn't the fastest trip even and I got a good workout, but I made it. There were quite a few people on foot since only about half the tube was running (unless you live off the Northern or Victoria Lines, good luck), no buses, most of the commuter rail is shut. My boss took 2.5 hours to get into the City when it usually takes less than an hour. The streets are very quiet, even though a few insane souls are using their cars. The less major roads are sheets of packed snow/ice and the major roads are heavy, dirty slush. It was cool to witness. In the meantime, here are some images of my walk today. Those of you in the US might just yawn, but this is the most snow London has seen in 18 years. 🙂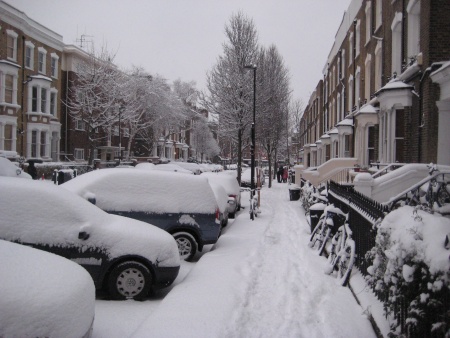 This is right outside my house. People were out playing in the snow, making snowmen, clearing cars off with their arms. Very festive and happy.
A London pub covered in white. The Scolt Head is a nice place. Good beer, friendly folks and a fireplace.
Regents Canal — This is a canal that traverses North London. No narrow boats on this stretch, I wish I had seen some narrow boats to snap.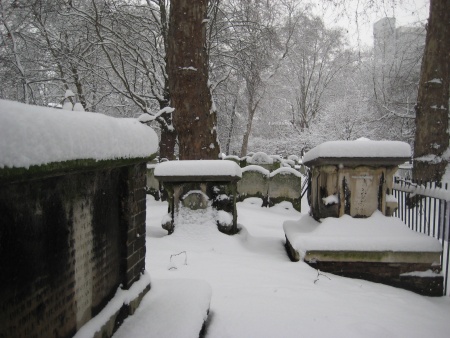 Bunhill Fields – The old City cemetary that was the place for dissenters (people who were not Church of England goers), until the dead were buried further out for health reasons. It's right near my office and was shut due to the weather. It looked pretty and untouched through the fence.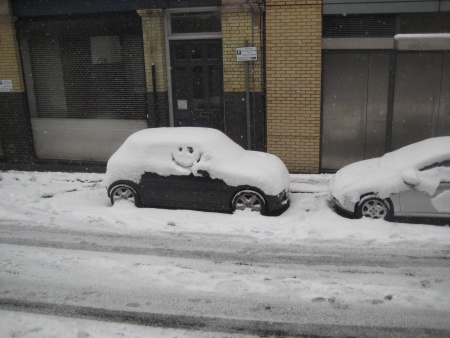 Snow brings out the fun in everyone! Nothing to brighten your day like a happy Mini under a foot of snow.
Anyway, those of you in England – enjoy your lovely wintry day!