So the theme for this winter seems to be, shockingly enough, snow. As I mentioned before Christmas, we had one small dumping of snow that created havoc in London (but didn't stop our lovely trips to Madrid for Xmas and Somerset for New Years — more on that later).  Well, just when we thought that would be our winter storm for the season, Wednesday arrived with most of the rest of England snowed in and snow coming to London. Unlike some other parts of the country, we only got a couple of inches, but it's stuck and is still here. So we've had our own little wintry wonderland.
Today, Carolyn and I braved the sub 0 (celsius) temperatures to check out Hampstead Heath, a lovely piece of semi-rural feeling parkland in North London. Here's what we came across: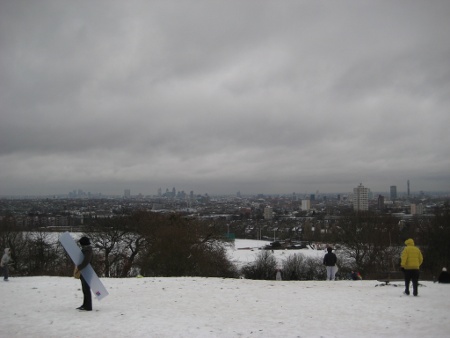 A view of all of London – but with snow!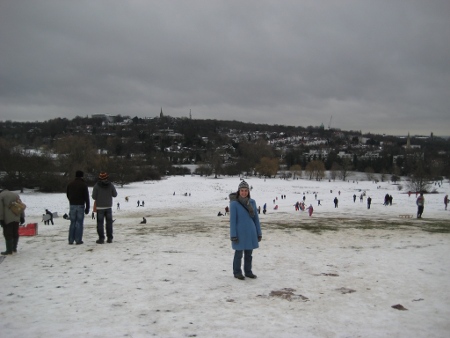 Carolyn atop Kite Hill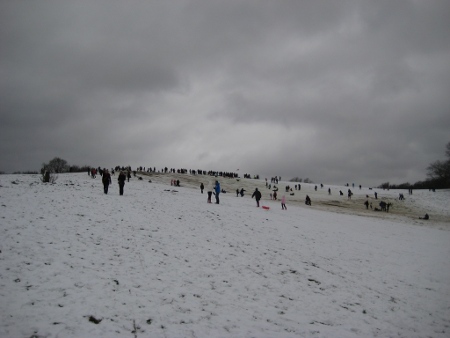 Parliament Hill is a picturesque spot where you can take in a lot of London. It's obviously a lovely spot where people fly kites and folks enjoy the wild beauty of Hampstead Heath. Behold what happens to it when some snow falls. People go "sledging" (aka. sledding) until the hill is completely bare 🙂