January 30th, 2011 by matt
Ever since Anna died in 2008, we've wanted to get a new cat. Chewy missed her terribly and we wanted him to be as happy as can be. However, with our traveling a lot and living in a small space in London, it didn't make a whole lot of sense to get one until we were in a more settled, larger place. Once we moved back to Chicago, we figured it was time. Well, that time is now. Let me introduce you to our new friend, Simon:
Simon came to us from Felines, Inc, which is a shelter just down the street from us. It's a converted house and provides a nice environment (cageless and no-kill) for the cats. The people were super friendly and made the whole experience (it's hard to pick just one cat!) smooth and easy. He's been with us for 2 days now and he's a sweet and playful cat. He's adjusting really well. As I write this, he and Chewy are roaming the house sniffing each other out. The fact that they are not needing separation (at least for a short period) shows how nice a cat he is. Chewy is spooked, but curious and I think these two will be great friends. Here's another picture of our new kitty: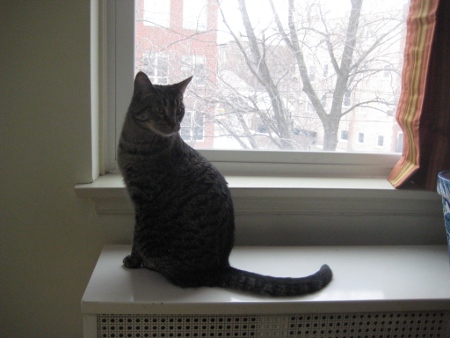 I'd have better pictures, but it's been rather overcast lately. I promise a lot (prolly too many) of him in the near future. I'm off to give our cats some more attention and help them adjust! Please join us in welcoming this wonderful cat to our world!