July 24th, 2010 by matt
The summer music festival is something of a modern British tradition. It's gotten to the point where, every weekend in June, July and August, there are multiple weekend long festivals to go to. People show up in a field somewhere, put up tents, drink, eat and watch music. They all tend to have a specific demographic they are aiming for and are of a variety of sizes. Last year, we tried out the whole thing with a nice small "boutique" festival called The End of the Road Festival. We had such fun, we wanted to do it again before we left. It's nice to kind of check out on the world and spend three or four days outside with a shitload of people all (hopefully) having fun. This year, we gave the Latitude Festival a try and we were not disappointed. It's mostly pop music, mostly in the folk/rock category and is in a beautiful park in Suffolk, about 2 hours from London.
This is the sign for the festival. And yes, those are sheep dyed multicoloured.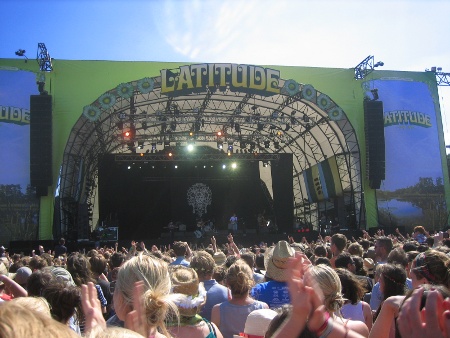 This is Mumford and Son playing a late afternoon set on Sunday. The weather was absolutely amazing. The band was very good and the crowd was loving it. Overall, there are over 100 music acts on 4 main stages and a couple of smaller stages so there is plenty to do. If you don't keep yourself in check, you can feel a little overwhelmed and everyone misses something they wish they'd seen.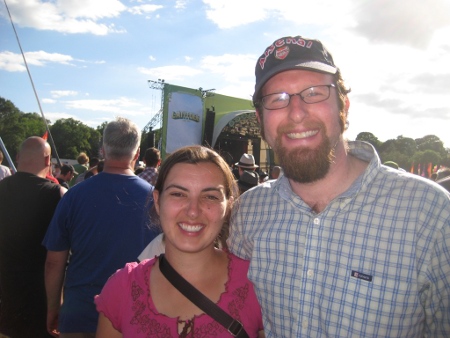 Here are a couple of happy concert goers.
Some of the nice bits of this festival are that it's in a wonderful location (35,000 people and there's a lake in the middle of it with lounge chairs if you can get them) and the variety of things to do. There is public art scattered all over the venue, tons of music, a good choice of food and drink. It's also not just about music. They have performances throughout the day and night of poetry and literature readings. They also put on dance performances. This is Sadler's Wells doing a snipit of Swan Lake. On top of that, the festival ran late into the night. One night, we just sat and soaked in some late night story telling on this lake stage. Another night, we danced in the woods to cheesy 80s music.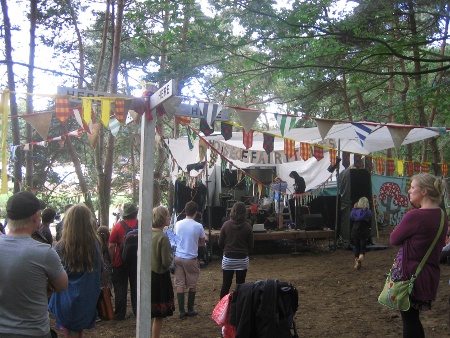 On fun thing at a gathering with so many people is to seek out some of the quieter joys that the festival organizers put around the venue. Last year, at End of the Road, we found late night games, like Jenga, something you wouldn't think of but then you find it and have a nice little moment. One of my favourites at Latitude was finding some of the public art late on Friday night in some of the woods. There was a makeshift shack erected which would enter and then sit in the dark listening to odd noise. In that same area, we found some sort of kids area that, at 2am, was shut. But we wandered over there the next day as things were starting back up and found a small stage, some good coffee and kid friendly activities. It was a nice little intimate moment to enjoy.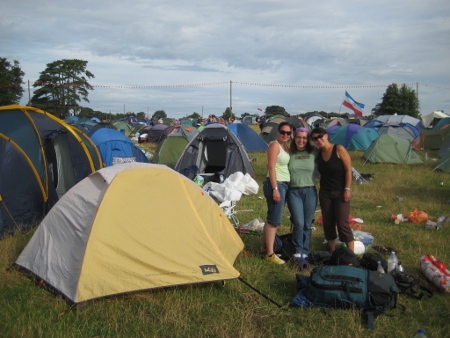 So who did we spend our weekend with? Our core crew was Cath, a former coworker of Carolyn's and our dear friends Dina and Adrian. Among our crew was also Maxine (a colleague of Carolyn's) and her group of really nice friends. They helped make the festival a really great time. We all slept in this field in our tents with 30,000 other friends 🙂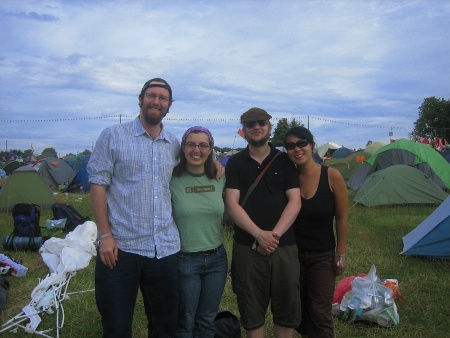 I feel like we have very few photos of Dina, Adrian, Carolyn and I together. This one is a nice one.
Anyway, the festival was a wonderful time. It's definitely one of the many things we're going to miss about the UK. I know the US has things like these, hopefully we can check them out and see how they compare.