Okay, so I didn't quite believe them when they issued a blizzard warning for Chicago from 3pm yesterday until 3pm today (Groundhogs Day!). But 20.2 inches later (according to the National Weather Center) with crazy drifts up to 4 feet high, alleys full of snow, road closures, school closures and the like, I think its official. Everyone keeps comparing to the Blizzard of '67 but I'll just fill you in on the details of this time around from my perspective.  A bit different than the snow days we experienced in London.
Right around 2pm on Tuesday, the snow started coming down and it was coming down sideways due to the intensity of the wind. I was working downtown and encouraged to head home early so I headed to the train about 3:30 pm. After walking/being blown over to the Chicago red line stop, I entered the platform and found more people waiting than I have ever seen before. I waited (underground at least) one hour before I could wedge myself on a train. Now I will admit that I am not the most aggressive person and I wasn't in any hurry but I let about 10 trains go by before I could get on one. Matt, who stayed at work until about 5pm, strolled down to the red-line and got right on the first train that came along, got a seat and made it home in about 35 minutes – record time.
I feel extremely fortunate that we made it home safely and without incident especially when I heard about the mess on Lake Shore Drive.  Over 900 cars were stranded for up to 12 hours and many cars are still stuck/buried keeping the road closed today.   Fortunately it appears there were no injuries or fatalities during the time people were stranded but it must have been horrible.   Here is an amazing photo of the scene from the Chicago Tribune.
We stayed up watching the snow fall and swirl and blow around for several hours last night. It was pretty amazing to watch how quickly it was piling up.  This was the view out our window last night.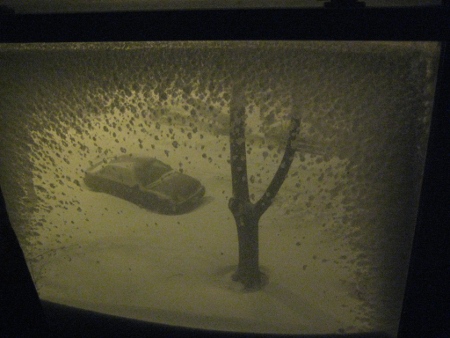 And this is our street about 6-7 hours into the storm.

We woke up on Wednesday and the snow was still coming down. I had a snow day so enjoyed doing some projects around the house, digging us out with our neighbors and the trusty building snowblower, and managed to pull out the x-country skis and travel around the neighborhood and down to the lake with Anne and her snow shoes. Here are some photos of our travels.
Diving in the Snow
"Shoveling"                                Snowshoeing down our street
Ski Tracks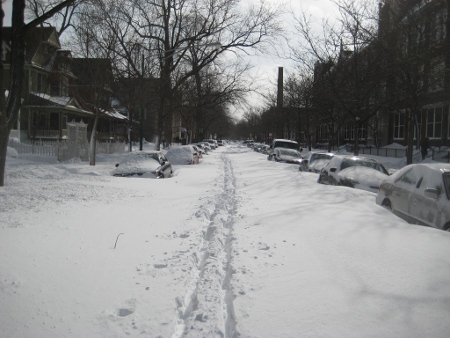 Chicago Sledding
That mound on the left is a car!                             Snow Plow?
The Lake, almost looks like another planet
Skiing on the beach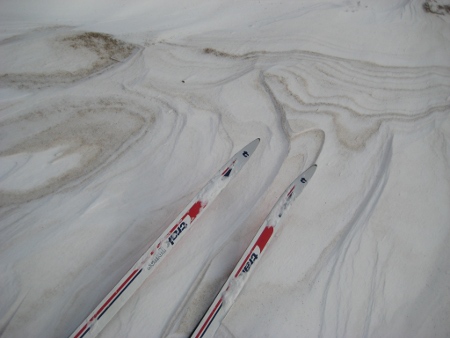 Other skiers at the Lake.  Remember this spot only a few months ago?  Looks real different now.
Check out this link to a photo gallery in the Tribune for more scenes of the Blizzard.  Anne took some videos of the progression of the storm which I will try to put up next.  Stay tuned!
All in all a pretty crazy day.  Too bad Matt had to work, but we managed to take another little walk around the neighborhood when he was done watching the dig out continue.