So I'm going to try a new addition to the blog. Before moving to London, I had bought an apartment in the Roger's Park neighborhood of Chicago. It's the farthest north neighborhood in the city. Coming back after a 3.5 year hiatus, I find myself looking at it differently. I'm curious about the history around it and so I thought I'd try a little bit of educating myself about what's around here.
With that in mind, there are some interesting buildings and goings on in the area and I thought I'd try writing about them. Let's begin right around the corner from our home. One building north of us is the remains of an old synagogue. It's a rather large building but it just sort of nestles into the scenery: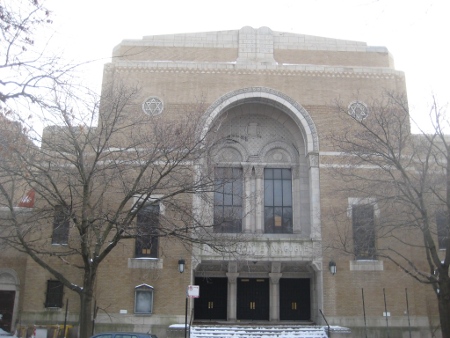 It ceased to serve a religious purpose in 2002, around the time I first moved to Chicago, so it's not been a house worship for a decent chunk of time. But, it's a beautiful building on the outside.  As Roger's Park was absorbed by Chicago, it began to grow along with the rest of the city. Among the new groups of people arriving in the area was a decently large sized Jewish community. It peaked at around 20,000 Jews after WWII. B'nai Zion was the first Conservative Jewish synagogue in Chicago and this building opened it doors right before the Great Depression. It's quite large, the picture above is only about half of it (there's a second section to the right).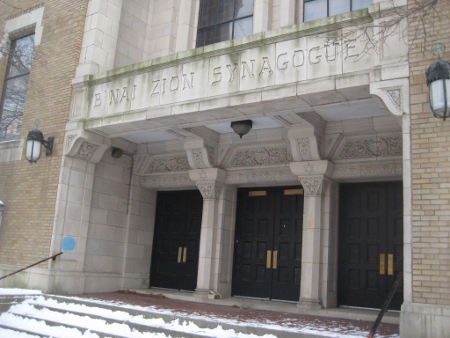 This is the main entrance to the building showing some of the nice decoration.
After WWII, Chicago began a slow decline and Roger's Park began to see the changes as well. The Jewish population moved to the suburbs and the need for a synagogue in the area became less important. There is still a rather large orthodox community, but they live in points west of East Roger's Park. The end finally came in 2002, when B'nai Zion merged with another synagogue and took up residence in a different home (at least that's the address they advertise). The synagogue has been replaced by the Lake Shore Schools, so it's still able to serve the community, just in a different way.
Roger's Park has seen a lot and been through a lot of changes over the years. This building simply stands as evidence of one of those waves of people who came through, established a community here and was replaced by other groups.
**Some credit for the information above: Much of my information  about the synagogue came from an article about it's demise and this nice article from the Roger's Park Historical Society.**