Yesterday was the final day of Wimbledon 2008 at the All-England Club and as many of you know, Nadal came away victorious in the men's final and Venus in the women's final.  On thursday the 26th of June, during the first week of the tournament, Dina and I decided to go down and queue up to try to see Wimbledon for ourselves.  I was extremly excited after years of watching Bud Collins and Breakfast at Wimbledon to finally have a chance to see the place in person.
In order to have a good chance of getting in, Dina and I got up at 6:00 am the morning after our second attempt at the Radiohead concert, and hopped on the tube to SW19.  We arrived around 7:30 am and were handed a queue card (we were number 3139 on the line).  The cards kept things nice and orderly as we made our way forward through the line, through security including metal detectors and finally arrived at the gates at around 10:45 am.  Here is a shot of the famous Wimbledon queue.
We entered the grounds around 11:00 am and I barely knew where to look first.  There was the scoreboard with the order of play, St. Mary's Walk (which I always remember from Bud Collins announcing), Murray Mount (named this year for Andrew Murray – Britain's current No. 1) and all 20 courts on which play began at noon.  We wandered the grounds for a bit taking it all in.  Here I am on St. Mary's Walk.

When you queue up for day of tickets at Wimbledon, you are pretty much guaranteed grounds tickets which give you access to Courts 3-19 and standing room for Court 2.  There are a limited number of Centre Court and No. 1 Court tickets available day off but people queue up overnight for those.  Although we were not able to see Center Court or No. 1 Court action, we had plenty to see on all the other courts.  While we were waiting for the matches to start, we had a chance to watch Nadal warming up on one of the smaller courts.  We then wandered over to watch some men's doubles on Court 6.  Turns out we were watching Nestor and Zimoniic the eventual men's champions.  Here is Nestor's serve in action.
We continued up to Murray's Mount to watch Venus win in straight sets on the big screen showing the match on center court.  Next, we wandered over to watch Jamie Murray (brother to Andrew and strangely reminiscent of John McEnroe in the 80's) play his doubles match.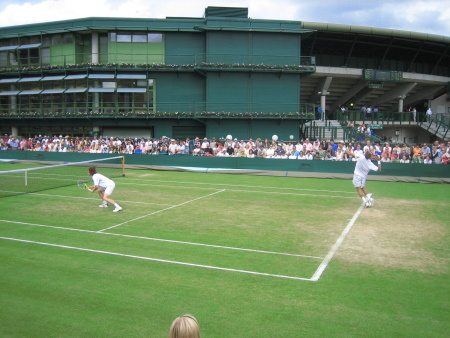 We stayed at Wimbledon (at one of the sunniest days I have experienced in England yet) until about 8pm.  Needless to say we watched many matches – singles, doubles, men, women, top seeds and unranked players.  We ended the day peeking over the guardrails to get a glimpse of Venus and Serena playing their doubles match on Court 11.
One of the great things about Wimbledon is their policy on resale tickets.  Anyone who leaves during the day is asked to return their ticket.  After 3pm those tickets are resold on an ongoing basis for 5 pounds with the profits going to charity.  So, it is possible to get on center court or No. 1 court later in the day when other folks have started to go home.  Dina and I didn't try for resale tickets as we were too busy watching all the matches on Courts 2-19 to bother standing on another line.  Here is a shot of the Order of Play and the updated scores so you can see what a busy day it was.
So, on our day out at Wimbledon we got to see the eventual champions in men's singles, women's singles, men's doubles and women's doubles at least for a bit of play.  We had a great time!