Shortly after Carolyn made her move over to London, she and Dina had a lovely day out at Wimbledon. I missed out on that (since I had to work for a living *sarcasm*), but it sounded like a fun thing to try out. Finally, this year, we decided to take a World Cup break and get a couple hours of tennis in after work. We showed up at different times and got to experience the joy that is the Queue (yes, a capital Q). When you get on it, they give you a little booklet with all sorts of information about this famous line. Here would be the most orderly line in the world:
We timed this nicely and managed to get through the 1/2 mile long queueueue in about an hour and then we were through the gates and in! Now we only had about two hours for me to soak in everything, so it was a bit rushed, but here we go. First of all, we got on another line to pick up extra tickets to one of the show courts. Courts 5-14 are general seating. Anyone with a ticket to the grounds can try to find a seat to a match and enjoy. Centre Court and courts 1 and 2 (3 and 4 are not in use at the moment) are the show courts and you need to buy a ticket. If you have one of these tickets and leave early, Wimbledon will resell your ticket and give that money to charity. We decided to have a Centre Court experience. We watched Jamie Murray and his 16 year old partner in mixed doubles lose to some people we'd never heard of:
Oddly enough, we should have paid more attention to their female opponent, Vera Zvonareva. As it were, she made it to the finals in both the Women's single and doubles (!!). She didn't win, but it was an impressive run and we saw a little piece of it.
In case you don't believe I was there, he I be in one of the most famous stadiums in the world: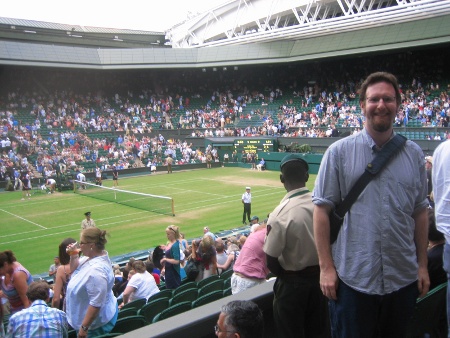 Wimbledon is built in a hilly, leafy section of London (it doesn't feel like you're in London at all). The hills allow you to soak in a lot of nice views of area:
As we walked along further, we saw some drunk people waving up towards that white tent on the right hand side of the picture above. We looked closely and who did we see waving back:
That would be John McEnroe, preparing to do his BBC commentary! hehe.
Any way, we soaked in the crowds, the Pimms, the odd upper level (for the haves) and the lower levels (for the have less) that permeated throughout the grounds and saw some tennis. That included this odd match:
These two players had played 3 very long sets (all in tie breaks). Victor Hănescu was up 2-1 against Daniel Brands. Brands, looked the better player and won the fourth set. At this point, Hanescu asked to have the match called due to darkness. The chair umpire said no and Hanescu started playing badly. Then, all of a sudden, he started spitting and cursing at one of the fans! He got a warning and the crowd got a little feisty. According to wikipedia, the fan called him a gypsy and he, being Romanian, didn't take that too well. Regardless, Hanescu proceeded to double fault that game away on purpose and then quit. Very surreal indeed.
It was good fun and I was really happy I finally got to partake of a little of it. And, it was yet another bit of London I got to see! Yeah!