Flashback to March: Grey cloudy drizzle and wearing warm coats (oh wait, not that different from this week).  But actually, one of the great things about March was Mehreen came to visit.  She spent a week in Scotland and England visiting her friend in Edinburgh and us.  I love having visitors from home because it's so nice to share our life here and our neighborhood with old friends.
Mehreen started her trip in Edinburgh and then we all meet up in York (halfway between Edinburgh and London) for an overnight visit.  Matt and I took the train (2 hour express trip) up to York Friday night and we met up with the crew.  We had a great day in York.  First, we visted the York Mininster which is one of the biggest churches in Europe.

We climbed all the steps to the roof.  Here are Kate, Mehreen and I checking out the view from the top.


York is a beautiful town with super old rambling streets like the Shambles and Whip-ma-whop-ma gate, historical buildings, a medieval wall surrounding the city, a meandering river and of course Matt's favorite part – the train museum.
The Shambles                                                 The River and wall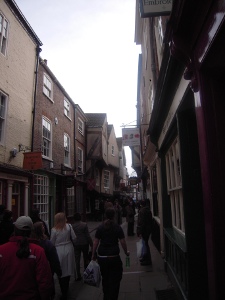 Little streets                                                            Old streets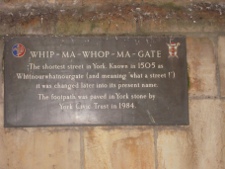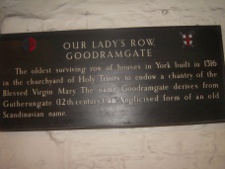 The wall and the town                                  The National Railway Museum
    
We ended a full day of touring with some excellent Chinese food.  Here is a shot of the whole group: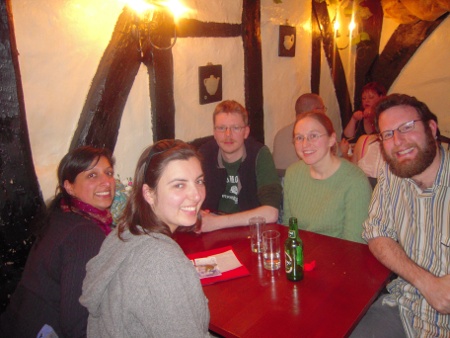 The next morning we got up to take the express train back to London and have a few days to show Mehreen around our neck of the woods.
We did lots of neighborhood walking around Islington and Hackney and introduced Mehreen to two of our favorite markets. First stop, Columbia Road Flower Market followed by an obligatory sunday roast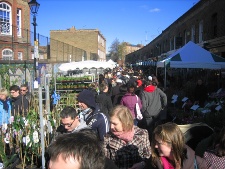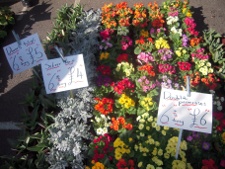 And then Spitalfields Market where we made some purchases – a coat and travel backpack – with Mehreen's support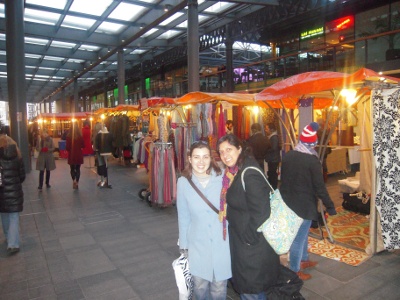 Thanks for coming to visit Mehreen!