Well, among the positives of living in the capital city (and a big ass metropolis), is the opportunity to take a in a lot of culture. The oodles of free museums aside, we've also soaked in some high-class music as well. A few weeks ago, we went to the Barbican to see some choral/orchestral music. Earlier in 2008, we went saw Partenope, an opera by Handel performed by the English National Opera at the London Coliseum. The music was excellent and the performers were great as well. However, while the opera takes place in Roman Naples, this production changed the setting to 1920s Paris and Partenope is supposedly living in some sort of Surrealistic flat and hanging out with artists. It didn't quite work.
Regardless, a good time was had by all and we decided to go again but see a performance with a more classic performance. The ENO was performing The Magic Flute by Mozart and we managed to snag some seats. Behold a British opera house: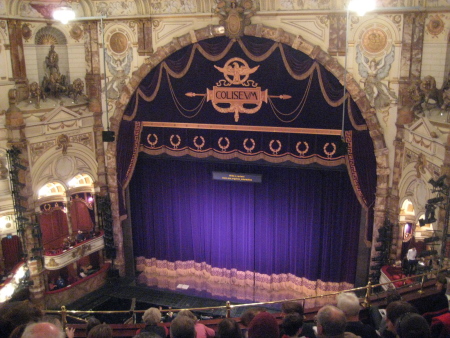 Now, the ENO does all of their performances in English. They still have the words shown above the stage since, regardless of what you might think, classical singers are not known for pronouncing anything well. I was a little worried about a German opera in English, but this one has speaking parts instead of recitative to move the plot forward. And, having British singers speaking German would haven't worked either, so overall it was good. Unlike Partenope, The Magic Flute was a more classic staging. The singers were excellent, the plot harebrained, the setting was lovely. We had a blast.
During intermission, we tend to have a drink and the nose-bleed section in the Coliseum has a nice bar area which leads to a glass atrium that has a nice view of the area. Observe:
And here are some happy opera fans:
Twas a wonderful day out. The day began with pre-opera drinks at a great pub near the opera house. Then there was opera and we finished the day out having a good curry near the Tower of London. Fun for all. Now we've seen a baroque opera, then a classical opera so I guess we should prolly go for a Romantic opera. Pucini? Verdi? Wagner? We shall see. We'd also like to check out the Royal Opera, but that will be more difficult since the tickets are in the range of £200-800 and the cheap seats (they seem to have handful for quite a bit less than £200) are hard to come by. We'll just have to keep an eye out.