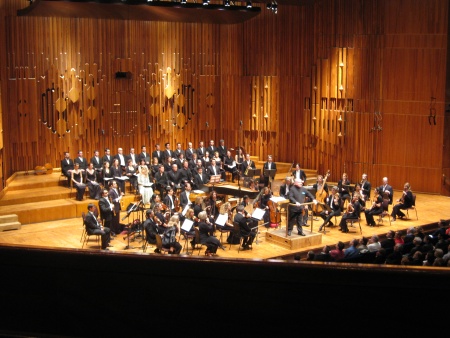 Les Musiciens du Lovres led by Marc Mikowski takes the stage at the Barbican
Two Sundays ago, we had a chance to partake of some culture in London. Our friend, Tobiaaas, is a big fan of classical music and one of his favourite tenors, Richard Croft, was singing as part of a performance at the Barbican. The Barbican was one of the large planned developments of the 1970s to replace aging and destroyed sections of the City of London. It's a very stark multi-function complex of apartment towers, art gallery, performance spaces and movie theatres. It's a pretty polarizing piece of architecture. Personally, I kind of like it, but I can see why it might piss some people off. The interior is lofty and welcoming. You can just go in during the day and wander, which is nice.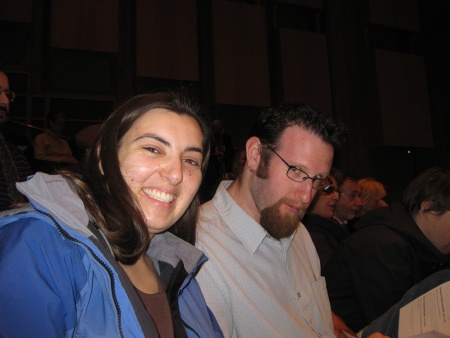 A happy Carolyn and a Matt making some sort of face (trying to be silly)
While I'd been there to see a film (The Simpsons movie, complete with an academic-like explanation provided when you went into the theatre), I'd never seen a performance in the hall. It's a lovely space, modern, but comfortable and the acoustics are excellent. The orchestra and choir we saw focuses primarily on early and Baroque music, but they have recently been expanding into more comtemporary music. However, this night was about the earlier stuff. We saw pieces by Purcel, Handel and Haydn, to celebrate a varity of anniversaries in their honor. The theme was St Cecilia, the patron saint of music as all three pieces were about her in some form. The performance was excellent and we definitely got our money's worth as it lasted almost 4 hours. We went home afterwards tired but content.