For those of you unaware, Thanksgiving isn't celebrated here. Yeah, yeah, it's a complete shocker. However, this being only the second Thanksgiving I've celebrated without my family, I wanted to do something other than work. Since part of this holiday has always been a little about excessive eating, I wanted a place that would mimic that well. I managed to wrangle up a few other coworkers and set about trying to get a booking at some place that would fit the needs of a Thanksgiving meal. I'd previously been to a pub somewhat near my flat which seemed to fit the bill called the Marquess Tavern. It has plenty of interesting beers, but the more important part was the choice of beef. To order it, you select a weights of beef from a chalkboard:
You pick the weight you want and it comes out freshly cut from the bone along with some green vegetables, potatoes, gravy and yorkshire pudding. We picked #1 and #6 which meant we ordered 5.5lbs of beef. Half of that (it came out on two plates) would look like this:
Tasty food! We managed to finish it all and felt good and full afterwards :). For those of you interested, here would be my companions for this years Thanksgiving: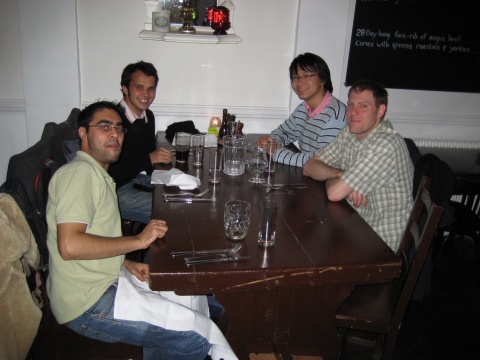 On the left are Bhavin and Christiaan and on the right are Ben and Hang. It was a very international little group. We ate, imbibed and generally had a jolly old time.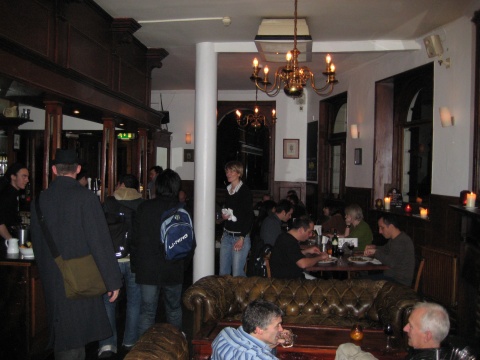 The interior is very nice as well.
Anyhoo, there was no turkey or family, but it was a fun time. I'm hoping to try to get as many people as possible together sometime next year (yikes! that's pretty close) and see how many of the choices of meat we can knock off the chalkboard.