It was a dark and stormy night. The fellowship of Froddo, Bilbo, myself, Dina and Adrian were in a tight spot. Do we take a hike in the woods, unprotected with no hope of a beer at the, or do we journey to the town of Adrian's birth, where his kinsman still live and the pubs are a plentiful?
In this case, we chose to check out Shoreham-by-Sea, which happens to be where Adrian grew up and much of his family still lives. After my very very quick trip to Stockholm, I landed at Gatwick Airport which is about halfway to Brighton. So I decided to take a little overnight trip down to say hello. After a festive evening, we figured it was a lovely Saturday to take a little walk and get some exercise. Our choices were many, but the walk from Bramber to Shoreham sounded pretty and gave me a chance to see some English towns I'd not yet seen. The walk began in Bramber and meandered along the River Adur which, as Anne pointed out, sounds like it's right out of Tolkien. The walk itself was about 5 miles and allowed us to see a number of cute villages, a gently flowing river, an old cement factory/chalk quarry and a few churches. Come hither and I shall show thee:
Bramber used to be home to a large Norman castle. During the English Civil War, Cromwell had a number of these castles torn down. Only the one wall you see in the distance remains (as well as some of the foundation). It must have been very impressive when it was in one piece.
After soaking in a little history, we decided to hit the local pub. It's a cute old pub/inn.
Here is the River that traverses Middle Earth. At its widest, it was about double this length. Near Shoreham, we even got to cross the remnants of a very rickety bridge that apparently still had car traffic over it into the 1970s. After a nice walk along the river with a detour to Botolphs, we reached our destination.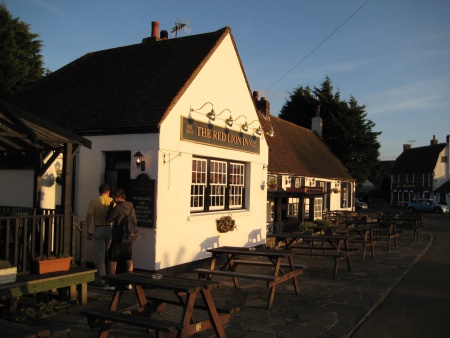 No not the Red Lion Inn. Shoreham! This pub used to be where coaches would stop for the night. The wooden beams make the ceiling so low, I couldn't stand up straight near the bar. Good selection ales, happy vibe.
Once we reached Shoreham, we met up with Adrian's mum and made merry until it was time for me to return to the land of London and my cute kitties. As always, it was a pleasure to spend a little time out of the city and see the beauty that is the English countryside.