So I have a post about my previous day on my Chicago trip, but I checked the news this morning and saw some baseball related info that seemed relevant to another activity I partook of whilst in Chicago.
The previous evening, I went out with a whole lot of people and braved the rain and lightning to see the Decemberists play in the Frank Gehry designed bandshell. Our friend Sof was there and, as we were leaving, he mentioned that he had a free ticket to see the Cubs the following afternoon and hinted that they were pretty freaking good seats. With everyone else having to work and stuff, I gladly took him up on the offer.
The day started out beautiful, but kept looking ominous and cloudy. They called for rain, but all that happened in the end was a little sprinkling of rain and some nice cloud cover from the sun.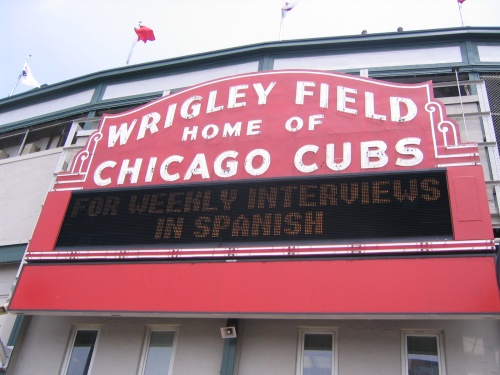 Welcome to Wrigley!
After a little bit of missing each other in the crowds, we met up with two of Sof's friends. Their dad had managed to pick up some box seats from work for free and couldn't go, so he passed them on to his daughters and, eventually, I ended up with one! Well, these seats were about 20 rows back and slightly to the left of home plate. Very very nice. See for yourself:
Very nice view of the game. Which just meant that I actually had to watch it. So, while I did imbibe some alcohol at the game, I can actually recall what happened. It was a high scoring affair, with the Cubs jumping out to a big lead and squandering it. The big highlight (or lowlight, depending on your perspective) was Barry Bonds hitting homeruns 752 and 753.
Which brings me to why I'm writing about this today instead of the Decemberists concert. I'm not going to try to go into the obvious fact that Barry Bonds has been cheating for many years in order to reach a milestone that is one of those records that has and should be hard to break. I just think it's a shame that major league baseball has appeared to wash their hands of it. He's going to break the record very very soon (now that he's tied it), and it doesn't look like, short of them catching him taking steroids or HGH, there's not much anyone can do about it. Which is kind of sad. Hitting that many homeruns is an impressive feat, but it appears as though he repeatedly tried any means he could to take things to enhance his game while not getting caught in the act.
I'll leave it to someone who knows better than I to say a little more about it. Bob Costas, while he can get on my nerves, has a great interview here where he lays out the (circumstantial) reasons why it's pretty obvious that Bonds has been using steroids (or other shit to make himself a gigantic man). Ok, no more rant. I think, in the end, that Major League Baseball deserves a whole lot of the blame for basically approving of these kinds of actions.
Anyway, I was really happy to have a chance to enjoy a day at a baseball game. I am not the biggest sports enthusiast, but I always like to catch a game or two every summer. It's always a fun time.