OK, I was able to leave the office at a reasonable hour, have a leisurely dinner and decompress by sitting on my ass in my flat for once. Let's start up the blogging again with these cute little critters:
Anna looking pensive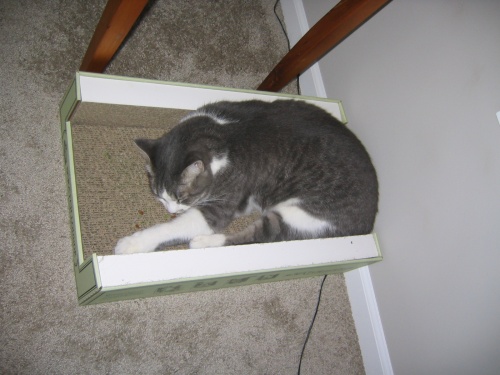 Chewy zonked out
Now I've said I wouldn't dwell too much on the cats, but there's developments afoot! In one week, these sweet little creatures will be crated up and take a crazy ass adventure across the Atlantic to join me in London. Just writing this makes me incredibly nervous. It was wonderful to see them again in Michigan (I'll get to that in the next week), but when I think about the 12 hours of hell they're going to go through just so I can be with them again, I worry. OK, first of all, I hope it's not hell. And when the come out of their crates, then they will be home again. Even if home is a long ways away and nothing like the last two homes they were in. But I'll be there.
Anyway, Anna and Chewy are coming soon. I've got a lot to do to prepare for their arrival. Woo hoo! 🙂