So, a while back, I posted a little bit about an old synagogue around the corner from us. One of the biggest comments about it, beside it being quite pretty with some interesting history, was "boy, it sure would be cool to see inside". I agreed and had thought a bit about how to go about it. To me, the idea of knocking on what is now a school for small kids seemed fraught with pitfalls as a hairy man with no children asking to look around seemed like it could be construed in a negative way. As it were, our neighbor Seth noticed an announcement that made it a whole lot easier. This weekend, the Rogers Park and West Ridge Historical Society was having their annual local open house and, among the 9 places you could visit, the synagogue was among them. Easy!
I'm going to focus on the synagogue here, but the tour had a nice slice of the area, including some nicely restored/remodelled houses and a lovely old church as well as some art galleries and public art. We began with the synagogue since it was close by and first on their self-guided tour. I personally had no idea what to expect as I figured the school had repurposed the whole space to their own needs and perhaps it would be more of a "here used to be the seats" kind of a tour. We were in for a surprise. The front door to the temple was open, a new thing since normally the school uses the side of the building as their public entrance. We were led down to the lower levels where the community hall was as well as a small lower temple: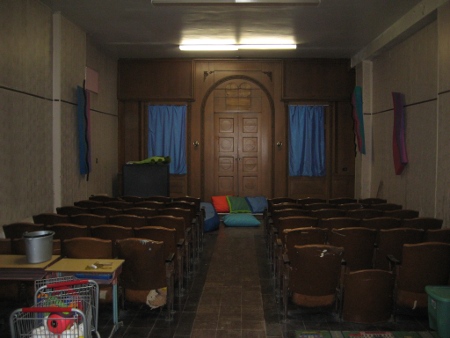 As you can see, there are some signs of use by the school, but it appeared to be more of a storage kind of thing. Inside the community hall section, there was a door to a kitchen which still proclaimed it's kosher roots saying "This is a dairy-free kitchen" which was a nice touch to still see 10 years after this had been used by the Jewish community. At this point, it was a somber "look at what used to be" kind of visit. Then we went upstairs to the actual temple.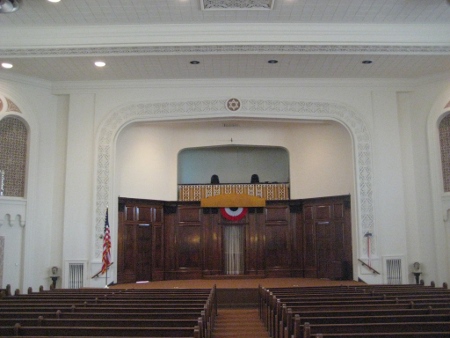 It was as though the doors had been locked 10 years ago and everyone just went home. The school had, whether by design or out of respect, kept the temple in exactly the condition they'd purchased it. It was quite awesome. We were met in here by Hank, who wrote a great writeup about the temple that I used as a source in my last write-up. He too, was pleased at the way the school had treated the temple. We also met a woman (whose name escapes me), who had come from Michigan to volunteer for the day as she had grown up in Roger's Park, went to this temple and her family was one of the first members of the congregation. It was fun to listen to her reminisce about life in the area (ice skating in winter, where she sat during services, ETC) when this was a temple of 20,000 familes and a focus of Roger's Park.
Next it was time to poke around a bit more. At the front, there were two doors leading up to the choir stall up top. Inside, it was like a time capsule or sorts.
That would be the old AV system. Still mounted on the wall from who knows when. As we went upstairs, we found some places the school was using for storage, but you still had the impression a lot of the temple was simply left as a memory. From the back windows, you could see our house, which gave it a nice personal touch. We made it up to the top and looked out over the empty congregation. Here is the view from the choir: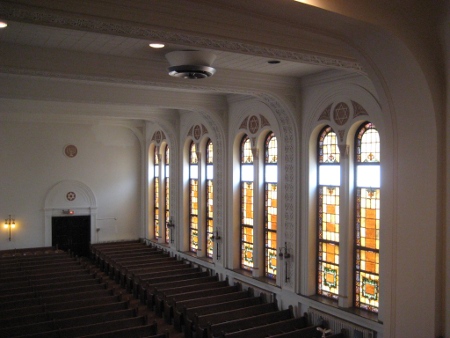 I particularly liked how, while this was a grand building, this being a conservative Jewish temple, they kept things elegant, but simple. It is possible to inspire awe without the glitz (not that a little glitz has it's place).
In case you're thinking "No way this isn't in regular use now", allow me to share this photo of the seats:
A thick coat of dust over everything. And if you don't believe in ghosts, then where did those footprints  near the aisle come from?? Ok, those are mine. Lovely old seats that are no suspended in time. I'm really glad we got the opportunity to see this piece of history. Thanks to the RPWR historical society for organizing this and to the Lake Shore Schools for taking care of a wonderful piece of history. I'll post some more raw photos with details tomorrow if you want to see a little more of it.