Over the years we have accumulated a fair amount of books.  Matt and I are both readers and have trouble letting go of the books we read.  We have collected travel guides, novels and textbooks and I have also managed to amass a huge amount of photo albums.  While we both would love to have a proper library or at least a room with walls covered with books someday, that is not in the cards for now.  So we decided to start out with purchasing a few cheap bookcases to house our collection.
Once we purchased the bookshelves, we thought we might make an attempt at sprucing them up a bit.  I did a bit of internet research and came across this great post about painting laminate furniture.  Following Lindsay's advice, I set up shop in the basement and sanded and primed away.  Once the shelves were prepped we made a trip to our handy local hardware store – which we love – and came home with a quart of "threadless grapes" paint and polyurethane.
The whole process was very straightforward but took a fair bit of time.  After a few weeks the pieces were complete and we were able to put them all together.  Below is the finished product holding our paperbacks.
Here is a close-up so you see the color and the little tiger and piglet happy meal guys (i've been carrying those around since Madrid 1998).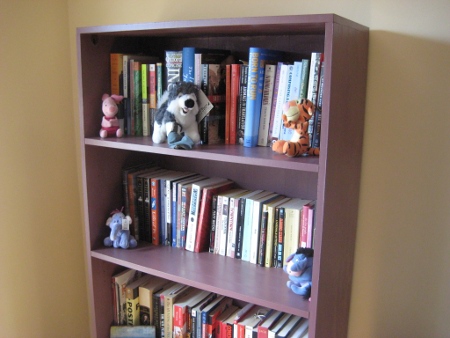 There is another one for photo albums.  Now we just need to purchase one nice sturdy one to hold all our textbooks.