Well, we had to leave the Tatras at some point, but we didn't really leave immediately. Time to guess where we went from there.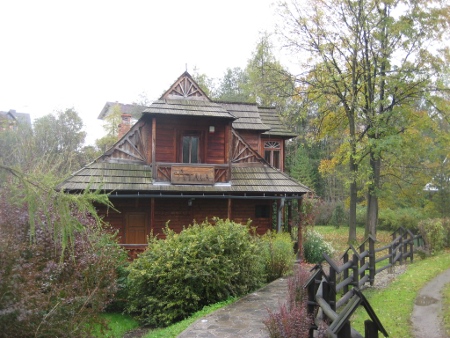 The architecture of this town originally was dominated by lovely wood buildings like this style. In recent years it's become a popular spot for the natives of this country, so more modern stuff has appeared. But there is still plenty of really nice homes like this all over the place, especially as you leave town and head into the mountains.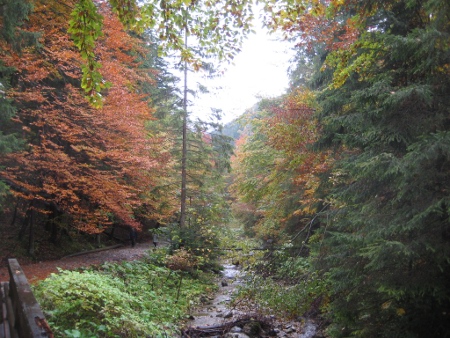 We took a walk into the mountains and, unlike where we were the previous couple of days, this section had some non-alpine type trees, giving us a nice taste of fall.
Confused? Well, then this probably won't help.
This is the view from our hotel overlooking the valley and the mountains surrounding it. Give up? It's Zacopane, the primary holiday destination for the Polish side of the Tatras. We simply woke up one morning, found a bus and found ourselves in a new country an hour or so later. While it's obviously a bit on the touristy side, when you leave the main bits of it, there's some really beautiful and interesting aspects to it. One particular road seems to have a whole lot of those nice wooden buildings with rooms to rent for your stay while others have set up ad hoc restaurants and pubs. This being the off-season and us being there for only one night, we failed to really explore that deeper. Only so much time for travel, alas. And the walk we took was through a really nice valley carved out into the mountains.