Well, if you've been keeping up with my posts, then you know we're in Slovakia now. The big question is, where in Slovakia are we? These pictures would be a big hint, since there's obviously a lot of mountains.
Here's the view from our hotel room.
Well, we've managed to climb most of the way up and too tired to smile for a photo. OK, there's a cable car up to about 5800 feet that we took up. Then we hiked along at that elevation and made our way down to see this: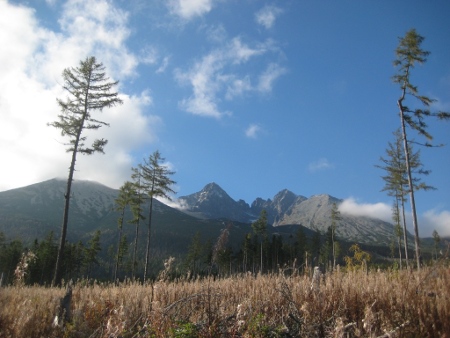 The spot we took this picture in used to be a pine forest. But a wind storm in 2004 managed to clear cut a lot of the forests around the area. Loggers seem to be helping it along a bit. But it did give us this nice field to view the mountains from. I doubt any of this is helping if you're trying to guess. I just love some of these pictures. Here's that last "hint".
Not too bad a mirror image. That triangle looking thing is actually for ski jumping.
Give up? We're in the Tatra Mountains. They are on the Slovak/Polish border. It's an alpine climate, so it almost feels like the Alps, but the beer is $1.50 and it's really Eastern Europe. It was really nice to get out of the cities a bit and enjoy some crisp mountain air for a spell.
Our bonus picture for the day is, once again, a train station. But it's a bit different this time. In the Tatras on the Slovak side, there are a series of mountain towns/resorts. They are connected by a little electric railway so, if you time it right, you can get from one end of the area to the other in an hour. Here is one of the stations. I think it's a bit of a change from the Plzen station.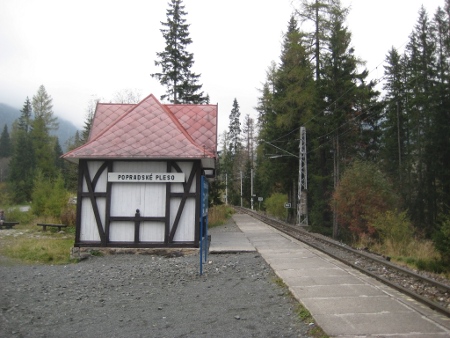 The lake pictures came from the next station down the line, Strebske Pleso. Our hotel was in Tatranska Lomnica on the opposite end of the valley. The monster peak from our hotel window is Lomnický štít which is 8600 feet tall and you can get up to the top of in a Gondola (we decided to take a hike that day instead of going to the summit). Lovely stuff.