While visiting Matt's family in Tuscon, we had a chance to venture over to Bowie, Arizona to visit the straw bale house my friend is building in the desert.  Unfortunately, she was out of town (in Michigan) for a few weeks so we didn't get a chance to see her.  Ground breaking on the house was back in April and at this stage the foundation has been poured, the walls are up and the roof is on.  We had a chance to poke around the site and check out the views.  I was really happy to get to see the house in progress and can't wait to come back to see it all finished.  I am so impressed with what Nicole has accomplished – she created the drawings, has learned tons about construction and with the help of family and friends, has been building her home herself.
Here's Matt outside the house.

While in the area we had the chance to explore some other beautiful places as well.  First we visited Katchner Caverns, an amazing limestone cave, which was only "discovered" in 1974 and open to the public only after efforts were made to ensure its preservation in the 1990s.  No photos allowed inside.
Afterwards, we went for a lovely walk in Chiricahua National Monument, a maze of rock spires.  Although we left Matt's parents at 5:30 am, by the time we went to the airport, had breakfast, went to the caves and drove the couple hours over to the Bowie area, we didn't arrive at the monument until about noon.  So we set off for our 2 hour walk in the heat of the day, not great timing for us wimps used to England temperatures.  It was well worth it though to see such amazing scenery.  It must be wonderful to see this place in all seasons.  An example of the views: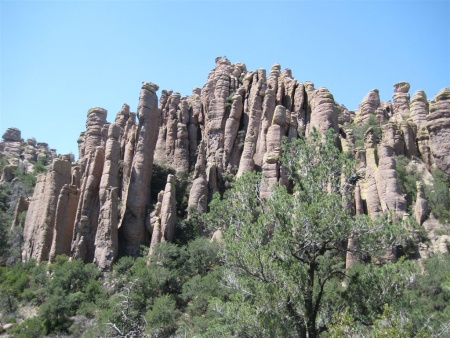 After this action packed day, we headed back to Tucson and finally got to experience a southwestern rainstorm complete with thunder and lightning.