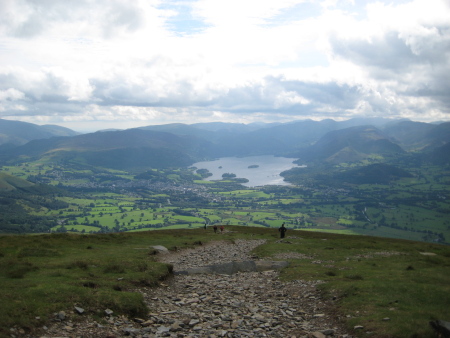 A view of Derwent Water from the top of Skiddaw (for a whole complement of pictures, view the Lake District album).
So, in my attempts to catch up with a whole back log of writing, I'm going to take you back to the summer. This will be a text heavy write up. Tomorrow, I'll post a selection of pictures.
After our lovely trip to Ludlow, we weren't done travelling for the summer by a long shot. Carolyn's friend, Angela, was in town to visit the homeland of her boyfriend, Nick. We decided it would be a blast to travel north to the Lake District to enjoy the natural beauty it had to offer. We chose Keswick, a town in the northern part of the area, as our base of operations. Since everyone travels on bank holidays, we had a fun time getting up there. I arrived at Euston first and there were major lines to pick up tickets. On top of that, we weren't allowed to book a seat, so we were at the mercy of the mob. When Carolyn showed up, we got some food and, just as we walked out of the food court, the track for our train was announced. The surging mob shifted towards it and then some people started sprinting to the train. Clearly, we weren't the only people without a seat. Somehow, we not only got a seat, but in a first class cabin converted to coach for this trip. Sweet!
Now, there are mostly small towns in the thick of the beautiful hills and lakes that make up the Lake District and they tend to thrive off tourism. So, basically, every house is a B and B (the predominent mode of lodging). I've always been skeptical of them, but my travels from this point on have made me soften to them. We stayed in Grassmoor House. If you're going to be visiting Keswick, I can whole-heartedly recommend them. Lovely rooms, great, filling breakfasts and a friendly couple running the place.
Now, one of the more fun things to do in the Lake District is to just take a walk. But this is a walk in the British sense. That means a nice hike up and down hills. We chose, for our first days hike, Skiddaw, which is about 3000 feet high and an 8 mile walk round trip from town. We teamed up with Melanie, a friend of Carolyn's from childhood who was living up here (her family is British and spent a few years in NJ during Melanie and Carolyn's youth). It has a nice path up to the top, but it's still quite a bit of effort to ascend it. It also afforded some breathtaking scenes of the area, including the one above. We scrambled down the more treacherous path to come back and for those of us not in the best of shape, we beat ourselves up nicely. After a few pints and a some curry, it was time for bed.
We decided to be a little more relaxed on our second day. Angela and Nick had rented a car, so we had a change to check out the surrounding area. We started with the only Pencil Museum in the world (Keswick being the home of a pencil factory). Then we went back in time to Caselrigg, a well intact stone circle (like Stonehenge). It was a lovely spot, but people perching about on 3000 year old stone formations was a little annoying.
We then took a driving tour of the area. We had a roast at a nice country pub and drove along Derwent Water and over an amazing mountain pass. This area is such an amazing array of varying natural beauty. There are many lakes (although only one is officially a lake) surrounded by mountains with town nestled in the valleys. It was such a joy to spend a few days out of the city and amongst nature.
We concluded our trip with a road trip and a short stint in Birmingham. Twas a lovely trip.