So this past Friday, I moved fully into my 30s. I can no longer say "I'm only barel 30" anymore (well, I guess I never did). For this special of special days, I assembled a mötley crüe of friends and coworkers for one of my favourite meals in the London, the Marquess Tavern. That's the place where you order the amount of beef you want in kilograms and it shows up on the bone. Yummy. Needless to say, much food and beer was consumed and, many of the attendees had never been there and all walked away happy.
Here is this times selection of beef. Not everyone eats beef, so other options were consumed as well, I assure you.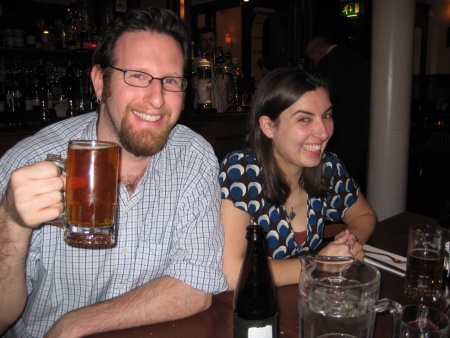 Here's Matt with a nice Belgian beer and a skeptical looking Carolyn. It was the only beer I had all evening. Really!!! 🙂
I have many incriminating photos of other people. But, this being a tasteful blog, I cannot show them. The night lasted until 2am when Carolyn Wrobel and her boyfriend Mike showed up in preparation for the upcoming London Marathon. We'll have more on that shortly!