Well, here's one thing I can't believe I haven't really written about. It's been 6 weeks since the kitties finally arrived in merry old England. They arrived in the beginning of August. It was a relatively smooth trip. The tricky part was the prep stuff. In my research, I'd read that the tough stuff was the initial stuff — making sure they were chipped and had their shots and clean of rabies. The way the whole cat moving process works is that the cats can come over 6 months after being proved rabies free. Alas, there is a single lab in the US that handles the blood tests. They were supposed to send the original forms to my vet and it never showed up. On top of that, the vet didn't follow up even after a number of phone calls. Thankfully, I have wonderful parents who helped ensure the forms showed up. Then there was something about FDA certification as well. Once that crap got sorted, they were ready to go on there way. My parents took them to O'hare, spending a night with them in my apartment and the cats were ready for an 8 hour plane ride — their first!
I had just gotten back from a trip to Frankfurt (I came back especially to be there for the cats) and spent the day nervously waiting for them. Their flight landed at 10:30am, so I assumed they'd show up around 12:30 or 1:00pm. And yet, silence. By 2:00pm, i was a little nervous. As it turned out, there was a major accident on the Ring Road which meant the courier bringing them was stuck in traffic. Finally, he managed to show up with two safe kitties! Here they are: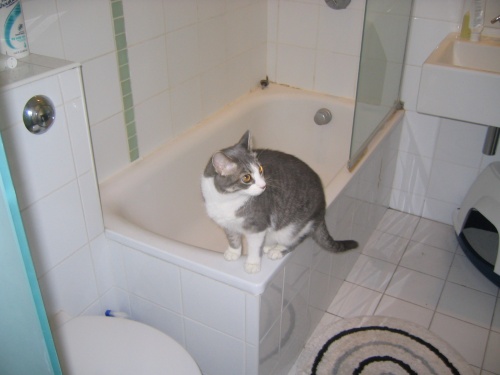 Chewy hanging out by the tub
Anna exploring — she didn't wanna sit still for a photo!
I haven't got any more photos of them as my camera gave up the ghost recently. But the cats are doing well. I think they are still adjusting but they are healthy and generally happy. My place it pretty small and they aren't romping like they used to. And I've been working a lot so I haven't been around as much as I'd like to 🙂