Hmmm, has it been a month? Well, let's catch up. As you may recall, we didn't take an official honeymoon after our wedding. Carolyn's parents were most kind and gave us a couple of days in NYC in lieu of that, so we decided to just have a number of small honeymoons until we took the real one (more on the real one later). It was a lovely time. August was time for honeymoon #2, this time thanks to my parents. Since we'd done a big city US honeymoon, this time around we thought we'd try the English country-side. After a little hunting around, we found a place called Ludlow, which is the foodie capital of the small towns. At one point, it had three Michelin starred restaurants in a town of 10,000. We spent a weekend here, staying in and eating in one of those restaurants. Today, I'll fill you in on that piece of the weekend and write about the town of Ludlow and the cool-ass castle in some other posts.
We stayed at Mr. Underhill's, an inn and lovely restaurant on the banks of the River Teme in Ludlow. Ludlow is about 12 miles from the Welsh border surrounded by beautiful rolling hills. Mr. Underhill's is at a perfect bend in the river with a man-made waterfall (called a weir) and an ancient one-lane bridge nearby that's leads up into the hills. It sits right under the castle in Ludlow, which is perched above it. As a result, it had a wonderful feel of isolation, even if the town was just around the corner. And the inn and restaurant were in a private courtyard which gave a nice peaceful feel to it:
Our room was a cute, well furnished room that allowed us to watch the Olympics in the mornings. And the place included breakfast. This might not mean much except for the fact that the big draw of staying at this particular place was the food. Mr Underhill's, while it might be in a small market town 4 hours from London, has a Michelin star. So we had breakfast in a Michelin starred restaurant (it was damn fine). I don't think either of us had eaten at a place like this, so we were curious to give it a try. And, when we booked the room, we booked dinner for our second night there. A nice romantic dinner along a beautiful river.
Dinner was everything we expected. It was about 9 courses, most dishes being smaller taster dishes with a main course that was a little bigger. The restaurant itself was very unpretentious. It was a husband and a wife who ran the place and the wife was always out in front chatting with people and happy to answer questions. The dress was casual-ish and their cat would wander in and find a comfortable place to chill out with all the folks eating their dinner. The menu changed daily and you didn't know what you were going to get until you sat down. Whatever they could find in the markets that day went into the meal. Here are our main courses: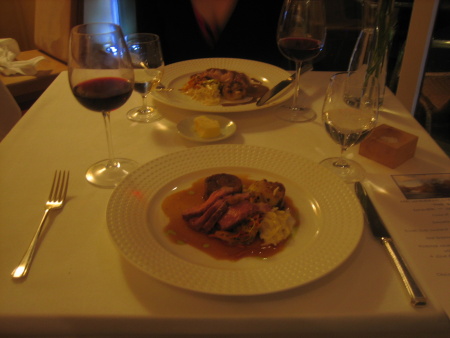 Fancy and delicious food, but none of the "we have a Michelin star" pretension. Dinner took about three hours, at which point we were full and content. I have the menu scanned, but I need to dig it up. I'll post it when I find it.
The dining room was cosy (10 tables) and comfortable. The whole place has a nice intimate and friendly atmosphere. From the rooms to the food, it was very pleasant:
Now, we did more than just hang out at this inn, but that'll be for the next post about Ludlow.