Out in the blog world that I roam in, there's a time-honored tradition of Friday Cat Blogging. This is exactly what it sounds like: pictures of cats. Since I'm a silly cat owner, I thought I would add this to my currently infrequent blogging. Let's give it a try: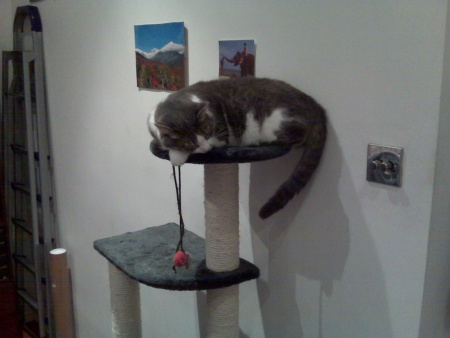 We bought Chewy a cat tree a couple of weeks ago. He'd started gaining weight when Anna wasn't eating (I guess he decided all the food was for him since she wasn't interested). We figured this might give him some new perspectives on the flat and make him excercise a little more. So far, with a special diet of food as well, it seems to be working. He likes to hop up and lounge on it.
OMG!!! He's got frickin' laser beams in his eyes! That's just a nice full on view of his cat tree.
Coming up, I have tons of trips to fill you in on. Ludlow, the Lake District, Dublin, Cambridge and a parental visit!