So, it's time for a little more English football fun. Almost a year ago, I had the good fortune to see my local football team, Arsenal, play in their brand new stadium. It was a fun time. But I hadn't thought much about the old stadium. I knew where it was and that they were trying to preserve the exterior as they turned the rest into apartments. I also knew that the initial consensus was that the new stadium lacked the homey-ness of the old one. The original Arsenal stadium originated in a time when people would pack into standing-room only sections and fit 70,000 people in a stadium that would later fit about 40,000 people seated. It lacked corporate sponsorship and pre-dated the big money era of Premier league football.
Inspired by Carolyn's run past the original, I decided to finally seek it out. First things first; I am completely amused by the whole talk about how the stadium moved so far away. It moved a whopping 1/2 a mile down the road which, in an area as cramped London is kind of necessary. Second, it's located in an amazing fashion. From the outside, you could walk right by it from almost every direction and not realize that there's a stadium right there. Only the the East stands had frontage on the road, the rest seemed to be "protected" by houses. On each side there was a space for fans to get into the complex but it really truly just sat in the middle of a neighbourhood. I'm sure that large chunks of it have been leveled for this new block of apartments, but the situation of it was very cool. Anyway, let's do a little compare and contrast: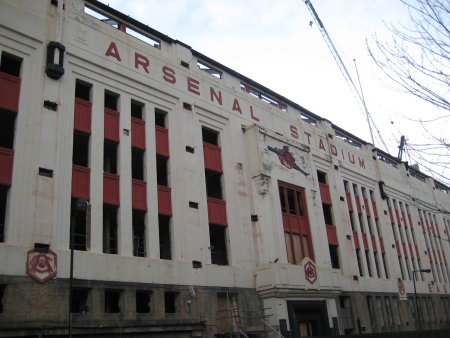 This is the large frontage part of the old stadium. This about the best "distance" shot I could get because from all other angles, this shot just disappears.
This was the West entrance. Yes, those are houses that surround it which means that the stadium was literally in their backyard. Wrigley Field, eat your heart out.
This is the new complex. You can see it from all sorts of angles, through roads, while approaching it. Anyway, it sounds like the fans have been getting more comfortable with their new surroundings, even as Arsenal has choked at the end of this season. But, it's a stark contrast to their old home.