Now, aside from wanting to propose to Carolyn, another reason for my visiting Chicago when I did was to celebrate her 30th birthday. It turned into more of a weekend long celebration, so I'll write about each day separately. There might be a little overlap from other posts, but bear with me 🙂
The day started with a jet-lagged Matt, since he had just arrived the day before, waking up pretty much constantly from about 4am onward. Once I was up and about, it was time to begin a nice Chicago day. We first went off to Metropolis, which is home to the finest coffee in Chicago. I know it's still an Intelligentsia town, but I much prefer Metropolis. They roast all their own beans in small batches and understand that making a coffee drink is an art. Once I was caffeined up, Carolyn and I did a little volunteer work. She has recently been spending her Saturday mornings at the Ginkgo Organic Garden near her apartment, so we went up there to help harvest vegetables (100lbs of it) and do some general weeding and maintenance of the garden. All the food grown there goes to local food banks.
After a little rest and cleaning, we began the first day of celebrations. We started by going to the Hopleaf. It's an upscale bar with a wide selection of beers (on tap and in bottles). Their focus is on Belgian beer, but they have beer from all over the world. They also have food, but that wasn't on the schedule this night. We met Dave and Melissa for a little pre-dinner drinks: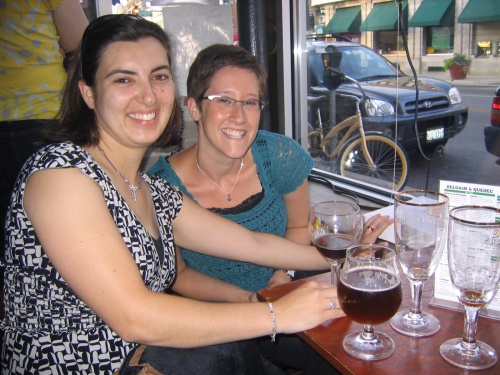 (That's Carolyn and Melissa)
Eventually, we made our way a little further north to our dinner destination, Ethiopian Diamond where we also met up with Virginia and Carolyn W. We'd been there for Dan's birthday the previous year and it was a fun group dinner. For those of you unaware, ethiopian food is typically eaten on a big platter with a sponge-like bread instead of utensils. This place is particularly tasty. We got a wide variety of food (chicken, lamb, beef, chickpea and okra dishes) and sampled the range of African beers they offer. Here would be the food: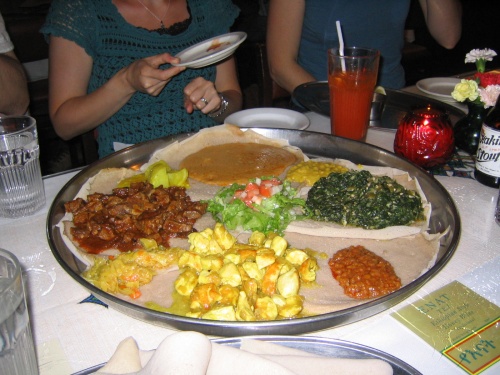 And here is the birthday girl and her birthday 'cake':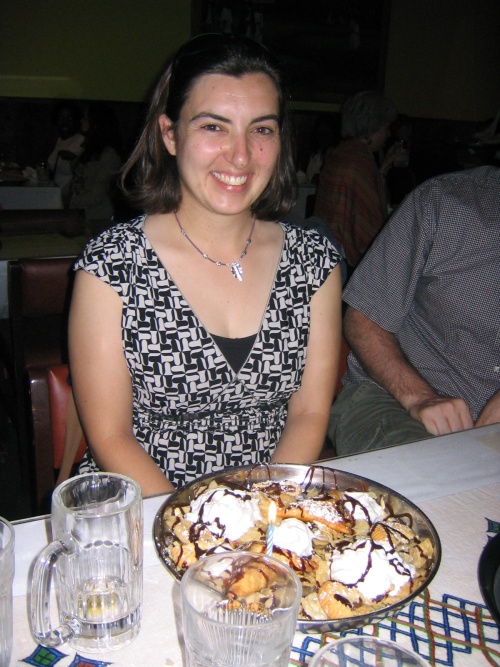 After filling up on some good food, it was time to move down the street to Moody's. It's one of the more interesting bars in the city. The interior, unlike much of the city, is not air-conditioned, so in the summer, it's very warm inside. On top of that, it's got a very dark vibe and a fireplace which makes the inside a little scary. However, they have a gigantic beer garden (about twice the size of the inside bar) and is a great place for some beer and conversation. Their beer choices are limited but good (Anchor and Berghoffs on tap) and the price is ridiculously cheap ($9 for a pitcher of Anchor). On top of that, they have huge, cheap plates of fries and good burgers (people argue they're the best in the city — I'm not convinced, but they are tasty). Anyway, we headed here for beer and conversation, as well as to meet up with some fine folks who couldn't meet for dinner (Anne, Dan and Ryan). Here is an attempt at capturing the beer garden at night:
I personally started to crash after a few beers and fries and, thankfully, the night wound down. But, we all departed around midnight well fed and happy. For Carolyn, she still had more birthday fun to come the next day.