So my first month in London could be easily summed up as a tad stressful. But there have been some wonderful moments. And, due to the lack of free time and internet access at home, here's my first chance to give you a nicer view of life in London. I have many entries to catch up on, and I'm putting them in a completely random order.
After a week living in an flat in London, I had my first visitors. Dave and Melissa had a trip to Barcelona planned and decided to spend the weekend prior to that in merry ol' England. Now, my initial plan had been to have had a nice long weekend and then some in my apartment before my arrival. Instead, I moved in on the that long weekend and then spent a couple of days in Brighton (more on that next entry!) . So I was not really moved in in any meaningful way. I had a bed, a couch and enough to cook for a single person and that was all. Yes, it's not much different from life in Chicago where I never cooked, but I'm trying to turn over a new leaf.
Anyhoo, my preparation for my visitors required a trip Argos. It's a department store without the store. You either go online and choose what you with to purchase or you go to the store and look through a catalog. when you see what you want, you just select the item number, pay for it and a few minutes later, you pick it up at a counter. I believe things like these used to exist in the US, but I've not seen them. My first trip there involved picking up a nice comfy air mattress for my guests.
Dave and Melissa live in Chicago, so they knew they'd see me again when I left for good a month ago. But, this was my last chance to see them for a while (which is sad). They had done a lot of the touristy stuff, so they were happy to be dragged along to see some of 'real' London. This mostly consisted of wandering my neighborhood (which includes a very very large Football stadium. In the end, the big events of that part of their trip involved checking out nice cafes nearby and seeing about the local pubs. We checked out three pubs, all within 5 minutes of my flat, and they were all nice in their own ways. I think, if I had to pick my 'local', it would be The Nobody Inn. Good choice of beers and they even have decent burgers (not easy to find in England).
Aside from that, we checked out some of the things that London has to offer. We wandered the Saturday market in Notting Hill, we did a quick tour of the National Gallery and we looked around Covent Garden. They did tons of other things without me (what with my having a job and needing to do my US taxes 🙂 ), but they can comment in this entry with all of that fun. In the meantime, here are a select few pictures for a visual reference taken from a pub called The Cock (no fooling!):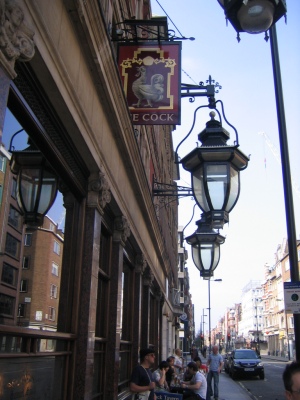 I told you it was called the Cock!!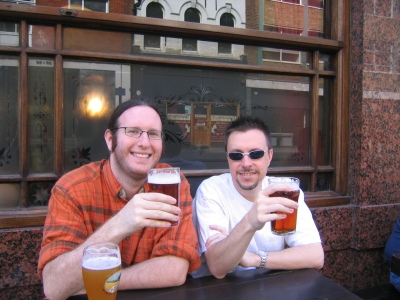 Dave and Matt enjoying a pint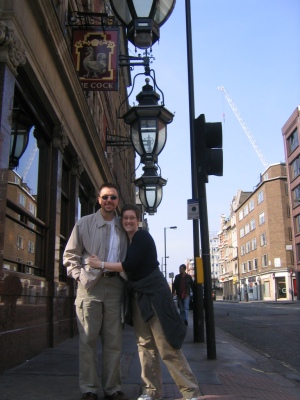 Dave and Melissa looking happy on vacation