So we awoke nice and early for our second day of traveling the Rhine River valley. Unlike the previous day where we covered little ground but saw a great deal. Today, we needed to get some miles under our belt while seeing a lot. And only had until 4pm to get to the Frankfurt airport.
Our first major stop was Loreley, a large rock jutting up above the river that provides a wonderful scenic viewpoint of the area. It's about a 400 ft climb and we decided to get some exercise. We get to the top, slightly winded to find there's a road on the back side of it and a tour bus of people hanging around. That's always a fun feeling. Here we worked hard to get our scenic spot and these people just sat around. Well, here's what it looks like from atop Loreley:
Note the ginormous ship. The Rhine still gets used for a lot of shipping. This picture doesn't show it, but along the right bank of the river in this direction, there are two castles: Burg Katz and Burg Maus. That's right, cat and mouse. They were built by a local duke and archbishop as ways to make each other look cooler and more powerful than the other. Katz won.
We were now in castle country. We made it a goal to check out a castle that hadn't fallen into ruins and one that had. Our choice for the former was Marksburg. It was one of the few castles that wasn't bombed during WWII and, as a result was still well preserved after 800 years. Alas, we were hoping to do a self-guided tour of sorts, especially since time was short and we found the only way in was a guided tour, only in German, that would take an hour. So we took in the beauty of its exterior and headed onward.
We made it to the top of the area, Koblenz and made a bit of a U-turn to check out the left bank. Our first stop was a town called Boppard, which is a very nicely preserved old town. We managed to catch the beautiful main church as services were getting out:
It was a really nice town, sitting right on the river with lots of wonderful old buildings that reminded me of what I picture towns up in the Alps. And it segued into our successful tour of a castle ruin in the next town over, St Goar. This was Burg Rheinfels and used to be the largest castle in the region. Unlike Marksburg, this place was self-guided and encouraged exploration of the ruins. Some parts of it had well groomed paths among the ruins while others were crumbling staircases that led into completely unlit rooms and corridors. As someone who likes to scramble around and explore things like this, I was having a blast. It was a sprawling complex of rooms and fortifications and on many levels that you check out. Really nicely laid out.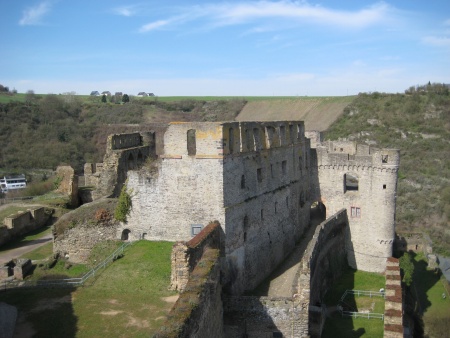 Once the castle was mostly explored, we made our way to the last town we stopped in, Bacharach. We found a nice place for lunch and one more tasty glass of Riesling. Alas, it was time to take our leave and race back to the airport for our flights home.